I sure hope you woke up this morning and thought, "It'd be fabulous to go to Anissa's site and just read a bunch of mad rambling and pointless babble."
Cause, for one, it gives me warm fuzzies to think I'd be your first thought in the morning. Those grandeur delusions, I'm telling ya, they run rampant around here!
Secondly, that's all I got for you.
After talking all glowy and rosy about the new writing, editing and ninja-ish jobs, I had to sit down and actually start DOING them.  Plus, there's that whole secret-lab concoction brewing.  Did I mention that I'm organizing a Twitter party for a special company? I'm figuring out how to throw a blog baby shower for the world's funniest blogger before…oh, say, the baby storms into my living room wondering where all her stuff is. Crossing my fingers for the chance to speak at BlogHer with these two awesome ladies (did you vote for us yet?).  Drowning in a flood of emails from companies who've all suddenly decided they want to work with me THIS freaking week.
As I am still pulling the single-mom routine on a daily basis, the added load is a bit staggering to take.
BUT, you'll be glad to know that I've purchased a white board to help me stay on track by listing all the things I have yet to complete.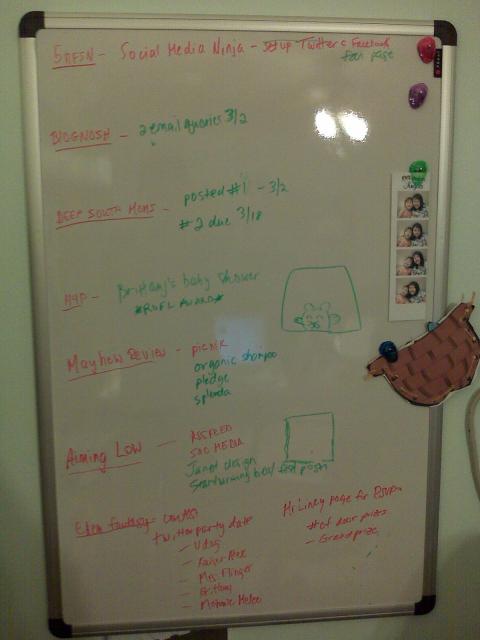 Seriously? I'm scared of that white board, ya'll.
It would totally petrify me except my kids tried to make the white board a happier place by giving me this: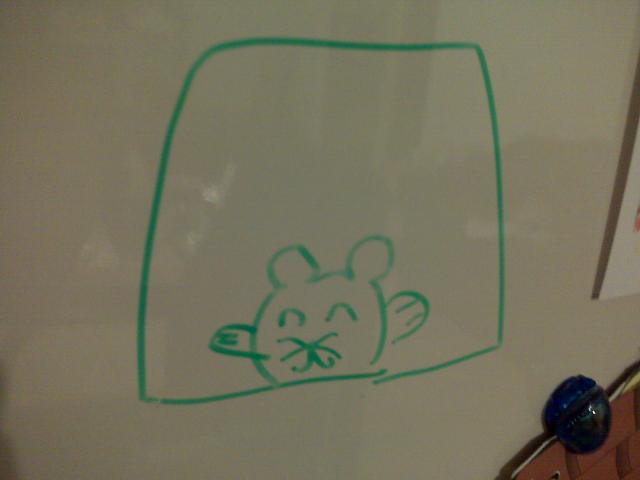 Henry, the Happy Blogging Hamster
Please be patient with me as I find my balance.
And I thought I'd let you know that my first post went up over at Deep South Moms today. Whee!