For the first time, we walked into our hospital no longer in treatment.
We are still under their care, but Peyton is no longer a "patient".
It felt good!
We've had a love affair with our hospital and clinic from the start, and we never cease to be thankful that Peyton was diagnosed in a location that has such an awesome children's hospital available.
The first year of her diagnosis Peyton was chosen to represent the hospital at their Children's Miracle Network Telethon and they produced this video of her at the clinic.  Please don't look at ME in the video, I thought they were just going to be shooting her and was woefully unprepared.  But Peyton sparkled when the cameras turned on her.
The second year we were picked to be a part of the announcement of the Vinny Lecavalier donation to All Children's Hospital…they're naming the whole oncology wing after him….NICE donation…but suffice it to say that when Peyton is DONE with the photo op with the hot hockey player, she is DONE!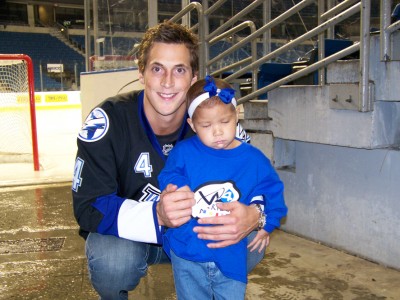 Today we got yet another chance to sing the praises of our hospital by participating in the US 103.5 Miracle Network Radiothon, being interviewed live by Jenny and Travis.  DO NOT feel like you have to listen to the whole recording of me gushing…because, believe me, I GUSH a lot!…but you have to check out the first couple of minutes and listen for Peyton to say the sweetest words.."No More Chemo!" Awwwwww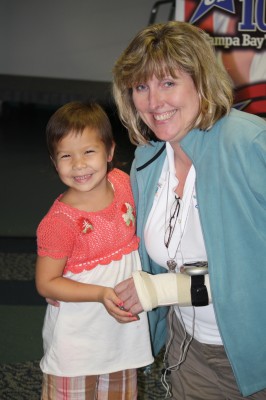 Peyton and Ann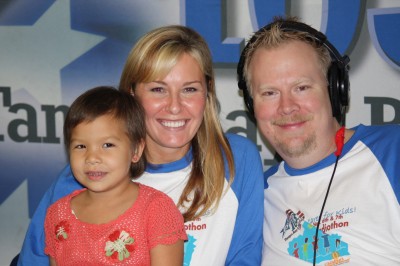 Peyton with Jenny and Travis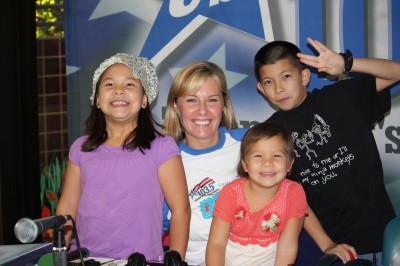 Jenny and the gang…including Rachael "Half-Pint" Mayhew
Thank you so much to Ann Miller from ACH, Jenny and Travis at US 103.5 and everyone at All Children's Hospital for having our backs and helping Peyton in her battle.