Today we started our day with Peyton at a Halloween party given by the Children's Cancer Center. It was such a precious event, the kids had a wonderful time playing games, winning prizes, doing crafts, getting their faces painted…and meeting Bucs players Michael Clayton, Michael Pittman and Jermaine Phillips. Ok, so the kids didn't really care at all about that last part, but it was very cool for the parents! It was funny to watch these big athletes interacting with these tiny little children, working hard to make them smile and laugh, they were very sweet guys.

Peyton with Michael Pittman, fishing for candy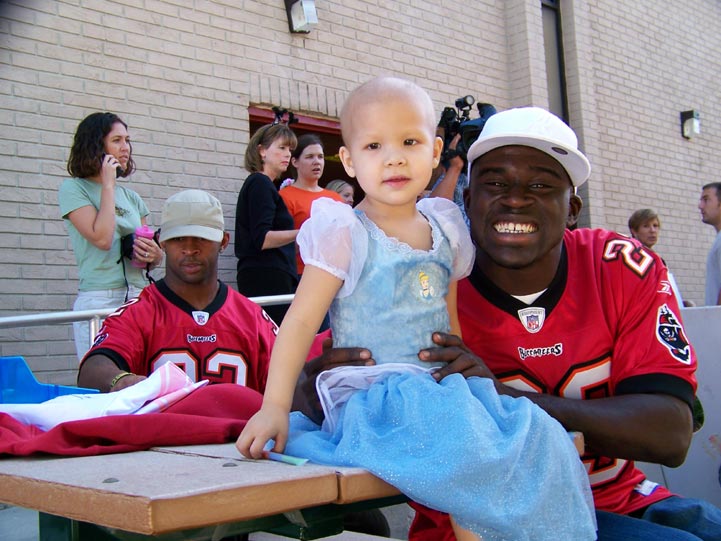 Peyton and Jermaine Phillips mugging for the camera
So, funny little side story. On the way to the clinic after the party, Peter's telling me how one of the players is great, but he has a specific issue. I told him that it's a good thing he didn't say that to his face, because as funny as it would be for future telling, getting beat up by a bunch of NFL players at a cancer function just isn't the IN thing to do. My sensetive and thoughtful husband realizes….he missed his chance to heckle NFL players to their faces and they wouldn't lay a hand on him! Not only are we surrounded by kids, but the tv crews were there. So, for future reference, Peter is a Steelers fan, and the Bucs have the right to kick his heiney!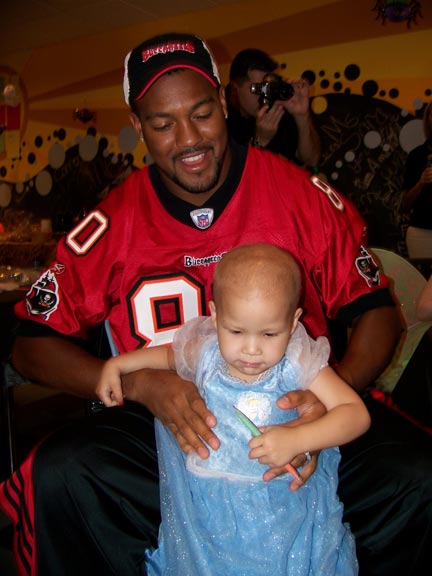 Michael Clayton dropping Peyton after she realized she didn't really want this stranger to hold her.
The CCC has given our family some wonderful opportunities to just be a family, and be involved in activities that we otherwise couldn't do right now. Nathaniel and Rachael are participating in the Big Buddy Mentor program and are set up with a new friend to spend time with that devotes singularly to them. The CCC is sending cancer families from all over the area to a Tampa Bay Lightening game this month and they gave us tickets today to take the kids to see the Wiggles. That's something we'd never be able to do because of Peyton's immune system, but they have a private box suite that gets donated for them to be able to offer to families like ours that can't be in the general audience….how awesome is that?!
We're excited about all the upcoming events and we're praying that it works out that Peyton is well enough to enjoy these adventures.
Our clinic visit went well today. Peyton received chemo via two shots in the leg which she didn't think a whole lot of, but she rebounded quickly and was in good spirits with a cup of chicken noodle soup in just a few minutes. We're now done with clinic visits until next Wednesday, so what a great break for us! We're so thankful for that.
The kids were just hysterical in getting ready for Halloween night. They were excited and eager and could think of nothing else. Rachael was dressed as Belle from Beauty and the Beast, Nathaniel was a ninja and Peyton was still Cinderella.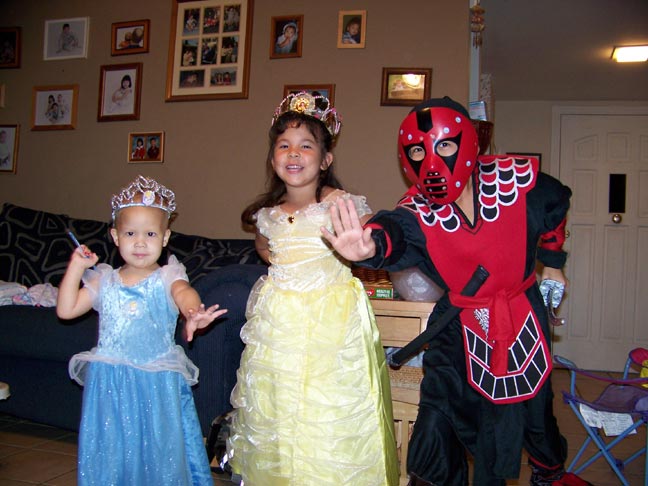 The kids apparently doing their impression of the Supremes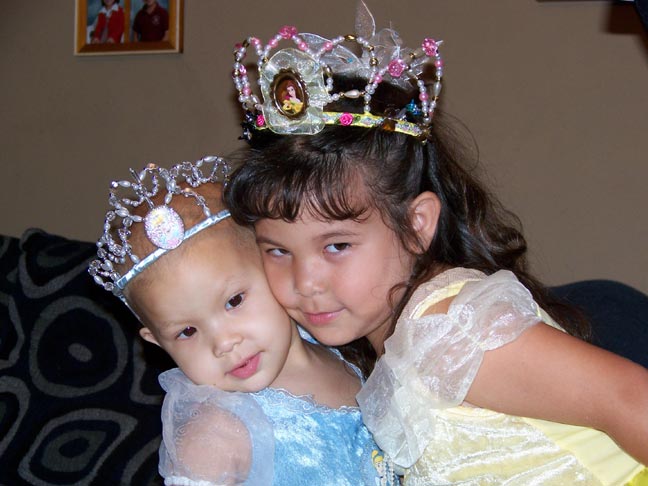 We did a walk around the neighborhood before Peyton got tired and wanted to come home. Peter finished up with the older two and we now have enough candy to sugar-high a small third world country. Just what we needed! But they had so much fun, it was so good for them to have this wonderful bit of normal.
I hope everyone enjoyed their Halloween night, however it was spent. Whether you walked house to house panhandling for sweets like us, repeatedly answered the door doling out goodies to goblins and princesses, or just turned off the lights and enjoyed knowing how frustrated the kids walking by were that you were hoarding all your candy, I hope your night was as good as ours.
F.R.O.G.
Fully Relying on God
—Anissa