TNT is premiering their new medical drama tonight "HawthoRNe" and I haven't seen it (with this move and ALL), but being that it's the network that drops "The Closer" and "Saving Grace" each week, pretty much means it can't suck.
I did want to take the time to let you know that with the premiere of "Hawthorne", TNT is running the "Hawthorne Salutes Nurse Heroes" program that recognizes the unsung heroes in all communities.  This contest allows the people to nominate the hero nurses in their lives, share their story, and give this hero the recognition deserved.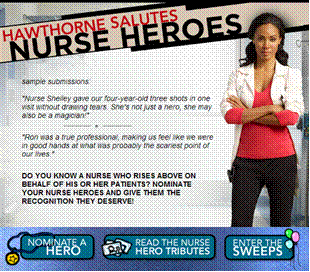 Cause, let me tell you, when you spend three years seeing pediatric oncology nurses every week, if not every day, you UNDERSTAND what tremendous people they are.  What they give and how driven they have to be to do their job.  This is a breed of person above and beyond awesome.
Maybe it was a nurse that took extraordinary care of your grandma in the hospital, maybe it's a nurse in the ER who was there for you in a crisis…maybe it's the nurse that held your kid down while getting her first chemo spinal tap and managed to get her to smile afterwards…MAYBE.
Just saying. *cough* Cindy *cough*
Besides that, nurses can enter TNT's sweepstake that will send a winner and a friend to LA to visit the set of "HawthoRNe" and for a day at the spa. Spread the word to anyone you know that deserves that prize as a small token for all the amazing work they do.

(My mom, who's a nurse, will be RUNNING to enter that contest, I hope you win, Ma!!)
"HawthoRNe" premieres tonight on TNT at 8PM EST, and "Saving Grace" premieres tonight at 10PM EST…catch 'em both if you can. I DID watch the "Saving Grace" premiere episode and can I just tell you WHOA.
PLUS!!!  I'll pick three random commenters to win "Saving Grace" tshirts!! So comment away folks, and if you comment ABOUT a nurse in your life, I'll count that as two entries….tweet the contest, that's one more entry!