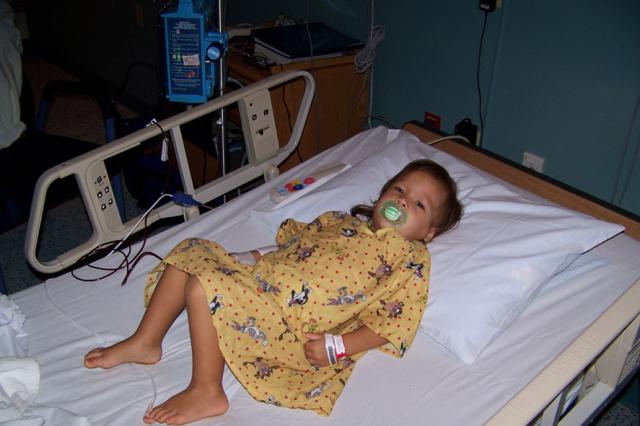 Today marks three years to the day that Peyton was diagnosed with Leukemia.
Our most craptastic anniversary.
Over the past 36 months, I've kept a Bible verse in the header of this site.
It was three years ago TODAY that verse came into my life.
I was curled up in one of those awesomely comfortable hospital chairs *snort*, just looking at Peyton.  All curled up in her large hospital bed, looking small and vulnerable in a way I'd never seen before. I remember tracking all the lines and IV's that tethered her to the bed…whispering which was antibiotic, which one was fluids, which one was platelets…learning the words, memorizing the order, my mind holding tight to one of the few things I could understand.
Peter had gone home to be with the older two kids, Peyton was firmly in a drug-induced sleep, the room quiet and dark….and I let go.
I had cried off and on all day.
In the house, crumpled on the floor of our bedroom after telling Peter what the pediatrician had said.
In the oncologists office, watching them probe a needle deep into Peyton's bone and hearing her pained cries.
On a bench outside of the clinic, absorbing the words that confirmed what everyone knew to be true.
Explaining to my family and friends that she had cancer..no, there was no mistake…it was true…I don't know…I don't know….I don't know anything…but she has cancer.
The first night alone in that hospital room, in the kind of quiet that allows you to hear the beeps of every machine, the muted shuffles of footsteps just outside the door, voices murmuring foreign words…I cried.
I cried the tears of a mother begging God to not take her child. In all my years, I have never cried in such a way. I hope never to again.
There have been so many crying bouts, tears for Peyton, tears for myself, tears for my family, tears for the other children and families battling cancer and especially the ones that lost the fight.
But nothing compares to that first night in the hospital.
And God answered me.
Not in the way I wanted. I can be real honest in the fact that I begged and pleaded and demanded that He fix it. Take it away. Make it GONE.  There was nothing humble or respectful about the conversation I had with God that night. It was angry and full of my resentment for what he was doing to me baby girl.
He answered anyway.
When the nurse came in later to check on us, I asked for a Bible.
It was the sorriest Bible I'd ever seen.
It was a beaten up, wrecked book with tear-stained pages…torn in places…ripped in others…it was a well-used Bible. It was a Bible that belonged on a pediatric oncology floor.
I didn't have anything in particular I was looking for, I wasn't even sure why I'd asked. I had no intentions of really getting into any reading at that point.  I think I just wanted to hold it, to clutch it like a drowning man would swear to never let go of that last plank of floating wood.
And the Bible fell apart.
It freaking fell apart.
A whole chunk of it just FELL.OUT.ONTO.THE.FLOOR.
I remember thinking "Wonderful, the Bible fell apart, that's got to be a GREAT sign."
And I bent over to retrieve the scattered pages and my eyes caught one verse on one page.
Romans 12:12.
Rejoice in hope,
Be patient in tribulation,
Be constant in prayer.
I can't say that it comforted me, that it filled me with the knowledge that everything would be OK and confidence that we could do this.
But that verse spoke to me and clarified that although there was nothing I could do for my daughter's body, I could do these things….and God would handle the rest.
The years that followed have seen many conversations with God that reverted back to demands and anger….confusion at HOW this could possibly be what He wants spilling out more time than I can count.
But, always, that voice that lets me know that there's power infinitely beyond mine that's calling the shots and understanding what seems incredibly wrong to my narrow thinking.
Even though we're on this side of that day…remission, good-health, survivorship…the 13th still holds incredible power over my heart.
It reminds me how fragile our lives are.
How large the lie that we control anything.
How quickly it can all change.
But my verse? It's power is strong as well.
How big faith can be.
How powerful God is.
Although I will never tell you that my faith keeps the fear at bay or my anger under control, it's what has kept me from giving up and allowed me to get out of bed every morning (well, most mornings).
It's been what allows us to keep laughing, keep living thought it.
It always will be.