And I REFUSE to apologize for it.
I keep hearing rumors that the mommybloggers are the red-headed stepchildren of the blogging community…considered the lowest form of the genre and that if you have nothing better to do that write about how often your kid takes a dump, you should just go ahead and turn in your pass to the blogger's club.
*oh by the way, should you have, or in fact, BE a red-headed step-child, I'm sure both you and they are totally lovely and should really find whoever coined that phrase and just beat the snot out of them.*
I do not write about politics, the wonders of how to be a better whatever or anything terribly self-important. I don't sit and brood about how best to stir the minds of America.  I don't thrill on drama or conflict.
This is IT, folks.
I am a mommy.
I have a blog.
I write about my kids.
OH, and Twilight. I can't forget Twilight.
Cookies, those are good too.
But, you know what I'm getting at.
And just to prove that I am 100% proud of that label, not in the least intimidated by the idea that some people out there think less of me as a writer or a blogger because I have nothing more fulfilling to write about that those aforementioned kids: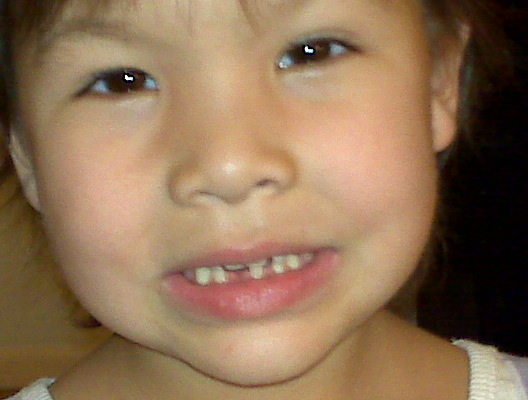 My baby girl lost her first tooth on Monday.  She wants to keep it in a plastic baggie and fill it with glitter. I think that's awesome.
I'll talk about it every day this week if I want to and you know what?  You'll LIKE it!
You want to tell me what I write about isn't important?
SUCK IT!
It don't get more important that that.
It is timeless, it is forever.
Cause long after whatever political debate or social injustice has ceased to be a big deal, kids will STILL be making their mamas cry over that gaping smile and remarkable milestone.
*********************
The winner of the IPod Touch has been announced and thank you to everyone who entered.
Check out for a Splenda giveaway next!