…although that stinks to high heaven of a metric ton load of ego.
It does make me feel warm and fuzzy to think that you had a "whoa" moment (FYI – said in a total Keanu Reeves voice, not the Joey Lawrence voice) when you realized ALERT ALERT, BLOG DOWN! and were sad for  just a few seconds before you moved on.
Of course, really? Who reads blogs on the weekends? Besides me, of course.
On a total side note, if you're pretty used to seeing me hitting your website and leaving comments and loving all over you…sorry! Been a bit crazy here with the whole "sick mom" thing and that "failing as a homeschooler" bit and then, of course, there's the "I'm so tired I want to lock myself in a closet and just sleep in an Ambien-induced coma for about a week" mumbo-jumbo.
If you're wondering why I haven't been to your site yet and don't leave comments….sorry!  I slack, therefore I am. Send me an email! Yell at me!  So, I can add "writhing in guilt and shame" thing to my aforementioned list.
If you have no blog yet for me to not visit and not comment at…why the heck not??  Get with the program here!
Will I ever post a post that makes sense or has a point?  Maybe.
I want to tell you about watching a shuttle take-off with my kids.
There was this great moment when my kids realized I'm not a complete dumba** loser bonehead, sometimes I know what I'm talking about…which, you know I totally NEED to write this one because those moments are few and far between and I want to get it down before I completely forget.
I have some great pictures found amongst the stacks of stacks at my parent's house…some are freaking awesome bad hair pics of me…but there are a few *cough* thousand *cough* of my sister that I totally scanned and have on my hard drive enjoyed and then put back in their box.
I'm deciding whether I want to write about what it feels like to have to talk about end of life preparedness and the scary responsibility of being a healthcare surrogate for my parents.
I just made six meals and stuck them in the freezer, washed a buttload of laundry and am trying feverishly to feel like I am preparing my parents for being here by themselves and that I'm not abandoning them….with my dad and his still-healing-broken-hip issues and my mom with her grocery list of issues…my dad has a cane, my mom uses a walker…guilt!
There's a lot going on IN my head, just not a terribly huge amount coming OUT of my head…or my fingers…or whichever visual image is least distrubing.
I will go now, as my rambling has confused me.
Oh! Just to keep with my Star Wars theme for this week: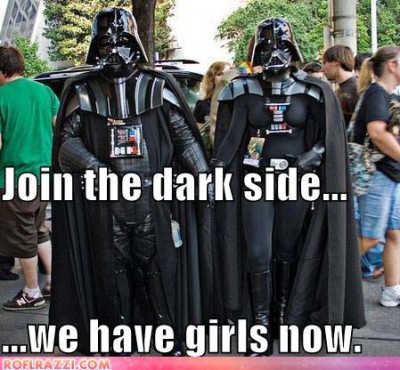 HEH.  Guess I got next year's Halloween costume already picked out!
**********************************

Oh! you MUST go to here and read my review of the new Linda Eder CD and check out the many opportunities to win her new CD and T-shirt autographed! (By her, not by me…but we can make that happen if that's what you really want.)
So why are you still here? Why aren't you off winning stuff? Jeez! GO ALREADY!