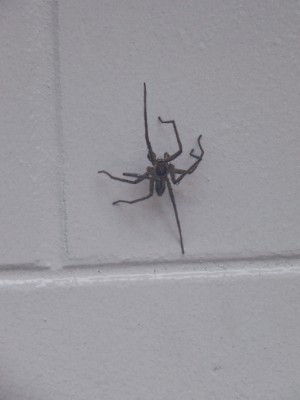 Me – high pitched girly scream
Spider – What!?  I'm just hanging here.  Lady, you are outside, this is MY domain.
Me – Will you stick around for just a second so that I can go get my camera and take a picture of you?
Spider – Sure, why not. Is the lighting good over here? Or would you prefer I move over into direct sunlight?
Me – No, this is fine. Just give me a second, ok?
Spider – K
Snap. Snap. Snap.
Me – Thanks, spider, great photo shoot. You belong in September's Arachnaphobic Digest.
Spider – Thanks. Hey! What're you doing?!  LADY, Put that DOWN!!!! Don't, I didn't hurt——"
Me – putting down…and get this…the POGO stick that I used to kill the monster.
Pogo stick = dead spider.
Come on, PETA, say something, I dare ya!