Two years ago we set the goal. We fixed our eyes on the prize.  We knew that this would be the ultimate fight.  It has had incredible highs and shattering lows.  We have been tried to the point of breaking and blessed beyond our imaginations. My family, my marriage, and my friendships have been tested and we have come out stronger on the other side.
We're not done yet, but the flag waving over the finish line is in sight.
October 30th is the day Peyton takes her last dose of chemotherapy. No more clinic trips to have chemo in her port, no more lumbar punctures to fill her spinal fluid full of poison, no more daily cups of pills to take.  I hope. I pray. I pray a LOT.  I pray with the knowledge that no matter what God hands us, THIS is what my heart desires beyond all other.  I pray that no matter what God hands us, he will continue to provide the strength to endure it.
I had a long talk with one of Peyton's oncologists on Wednesday when we went to the clinic for her monthly dose of Vincristine.  We talked about her end of chemo date. My heart both thrilled to know that the date is approaching rapidly and pounded in anxiety to know that we are going to be flying without the safety net.  We discussed post treatment follow up, the bone marrows and spinal taps, the blood test and the monitoring.  The searching for signs that the disease is back.  Relapse…she called it "reoccurrence", but it doesn't matter what you call it…is always a threat.
Watching child after child after child relapse in the past 6 months, that fear is more present…more REAL…than ever.  Dr. Kelly's faith in us is more than I want to think about.
"You know the signs."
Yes, I do. I'll be watching her for bruises that may pop up and decide not to go away.  I'll be checking those lips and cheeks to see if she looks paler than she did yesterday.  There will be a flutter in my heart if she seems fatigued or complains that she aches.  I know the signs all too well.  I will see them when they aren't there, I'll be waiting for them to rear their ugly heads.
This week her counts were great. All the counts were lovely and high and I held that piece of paper in my hand and thought about how many more sheets I'll add to the hundreds I already have.  Each one adding another week, another month between cancer and us.  I pray there are many. That they continue to show that we have beaten the disease.
You may have noticed the new ad in the left sidebar of the site. If not, take the time to notice it.  Our family will be participating in the Cure Kids Cancer Challenge on September 13th.  You may not know it, but September is National Childhood Cancer Awareness month and the 13th is now our National Childhood Cancer Awareness Day.  On the 13th we'll be walking as a family to raise awareness of what kids all over the world are enduring in the fight against pediatric cancer, we'll be raising money to fund the research that will provide more effective treatments and cures.
In the next weeks, you'll be given LOTS of opportunities to give to great childhood cancer causes.  The Pediatric Cancer Foundation that is dedicated heart and soul to giving children the tools they need to fight for their lives. The Children's Cancer Center that has a mission to improve the quality of those lives.  Generation Cures which is comitted to educating and promoting compassion in kids through play, to enable them to help their peers in the fight against cancer, because if we can reach them young, that's the next generation of advocates. Consider yourself very blessed if you had no idea that foundations likes these even existed, because that means you don't have to worry about your child's heath the way thousands of families do.  But now you do know, and I hope that I can encourage you to contribute to the hope that sustains so many, when hope is all we have.
This is Peyton before cancer came into our lives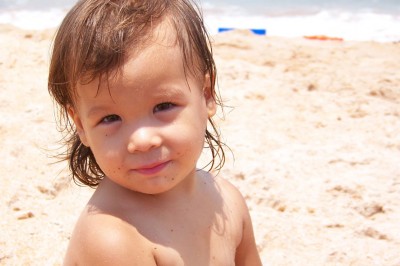 This is how she taught us to be courageous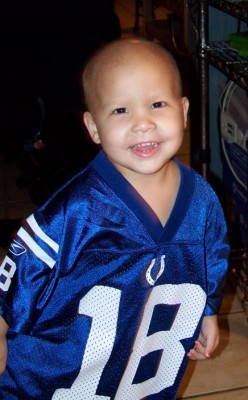 This is how she taught us joy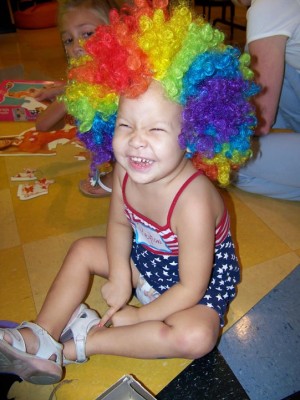 This is our survivor