However, now we have to hope that the winning photo REALLY IS the winning photo!
After much debate and a huge helping hand from all of you, a picture was picked to submit for the $500 Summer Fun Photo Contest at 5 Minutes for Mom.  It was a hard choice between the one of Rachael's goofy smile and Peyton in the sand.  Because several of you mentioned the beach photo that I had color-adjusted to be black and white with pink highlights, I am going to use that photo as my submission.
Even if it doesn't win, it will always hold a soft spot in my heart for her little bald head shining on that day and how I was so proud that she never let cancer get in the way of having a good time.
So, here is folks, my submission photo.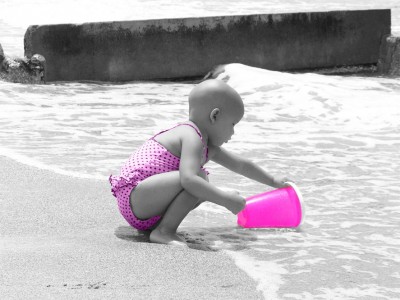 Thanks so much for helping me choose!