I am wallowing in the lazy today.
L.A.Z.Y.
Masked in the guise of doing something good for someone else.
Still thrilled it allows me to indulge in the lazy.
I don't have to do an actual post today.
I can't wait to tell you about my weekend plans and the fun things in store!  But not today.
Today?  I bring you a post from 5 Minutes for Moms: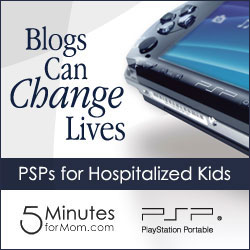 "So, for this installment of Blogs Can Change Lives, we are partnering with Sony PlayStation to bring PSP® (PlayStation Portable) systems to kids with life threatening or long term illnesses.
With your help, we are going to find TEN kids who are dealing with serious illness and periods of hospitalization and gift them each with a PSP Bundle."
Go, nominate a kid, give them the chance to make someone in your life very happy.