I wish I could tell you we had a fun-packed weekend, but while it didn't stink, it sure wasn't anything to get excited about.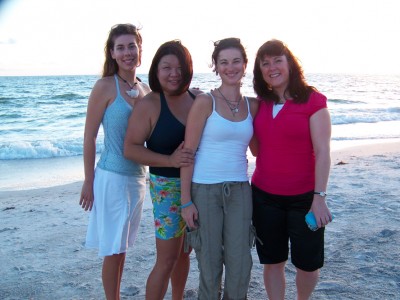 Do we look like 4 cancer moms? Well, these are 3 very special friends (from left, Annike, me, Nicole and Tracey) who've seen my through some rough days and our friendship is a blessing. (And disgustingly, half of me is hidden behind Nicole..but only half of me would fit *sigh*)
We went to a beach party hosted by the Children's Cancer Center on Thursday night and as we were getting ready to load up into the car and head home, Peyton started to complain that she didn't feel good. Her tummy hurt, her head hurt, her legs hurt.  As she got her heavy duty dose of chemo and started her steroids on Wednesday, that wasn't a complete surprise.  What did surprise me was that when I picked her up to put her in the carseat, she felt warm.
I'm sure normal moms don't keep thermometers in their purse, but just as I always have my keys (*snort!), some chapstick and my cell phone, I also always carry a thermometer, EMLA (numbing cream for her port) and some Press 'n Seal (which stands in for tape, because it sticks to the skin but comes off easily, we LUVs us some Press 'n Seal).
I got out my handy dandy thermometer and she was running a low-grade temp, just high 99's.  As we have to head to the hospital anytime she spikes over 101, I was concerned and watched her carefully over the night.  I was supposed to drive over to Daytona to help my mom take care of my dad who is recovering from hip surgery.  As each day of the weekend went by with the same low-grade fever, I had to finally tell them that I couldn't come.  I was disappointed that I couldn't be there to help out my parents, but I have to always take the risk of taking Peyton anywhere, especially if I know she's already at risk for a full blown fever.  Can I tell you how much that sucks?
So, the rest of the weekend has been just watching her and monitoring her. She's felt pretty cruddy. Nothing outright wrong, but just not herself. She's been lethargic and her color has been off, her sweet little eyes just show the wear and tear of the chemo on her system.  She hasn't even been all that hungry this month, which is unusual because last month she was like a bear storing up for hibernation.
Sunday night we went to see Wall-E….a post for another time there…and she crawled up into my lap and had trouble staying awake.  She just wanted to snuggle and when I'd move my arm from around her, she'd grab it and pull it back to hold her. By the end of the movie my arm was cramped and my leg was asleep, but if that's what she needs to get through the movie, no problem.
I just ask for prayers for Peyton as her body works to recoup this week. Her body is aching and I can tell she's uncomfortable, but she doesn't want me to give her anything for pain so she just fights through it.  She needs good rest and time to get back up to her normal blurring speed.
Please keep the prayers going for Peyton and her many friends battling this miserable monster of a disease.
This is also our last week before school starts on the 18th, as it is for many families. So let's make sure to keep all the kids, the parents and teachers in our prayers as well.
**more pictures of the beach fun available by clicking on Flickr.