When it comes to balance in our marriage, I have to accept that Peter is smarter than me.  That's not a derogatory statement against myself, nor is it a way to add steam to Peter's already inflated geek savviness.
The type of brilliance that Pete possesses is technical, information smart.  He could be a brain surgeon (except that he gags a little during scenes on ER) or an engineer, he could design buildings or build space ships.  He GETS physics, he can count cards and can do math in his head that requires me to have paper, a pencil, a calculator AND a tutor. We once had a friend of his from college come for a visit and they talked about the engines on the current NASA spacecrafts and all this cool mumbo jumbo was tumbling out of his lips that reminded me JUST how FREAKING smart this man is.  I was so impressed.
I don't say that he's smarter than me in many of the ways that count on a day-to-day basis…for example, I have to buy him clothing in the most simple-everything-matches sort of way…if they made Garanimal clothing for adults I would so be in line to get some.  "Pete, just match a penguin to a penguin, match a chicken to a chicken and you're good to go."  Yet, he constantly manages to find the one or two clothing combinations that DON'T match, to my brain-thumping dismay.
However, I bow to his skill in anything computer-related.  I truly believe that there's nothing that he can't do, or learn to do, with ease.  He speaks coding languages that cause my eyes to cross when I happen to glance over his shoulder and catch a glimpse. His fingers fly, producing lines and lines of stuff that make computers do cool-dude-ninja magic. I don't get it.
He are smart.
I tried to dip my foot into his pool. I worked in the 24/7 tech support at the internet company he worked at in Colorado.  I could feel my life force draining away a little more every day. He was thrilled that I was learning these things that he loved, I was looking around for loose cords that I could accidentally trip over, causing myself a head injury that would enable me to stay home collecting worker's comp.
For a while when I dreamed myself as a web designer and graphic artist, I headed back to college to learn all the stuff that comes so naturally to Dear Hubs.  I learned some Unix, I loved the Photoshop and Flash stuff, and then I learned that the market was really over-saturated by people with these skills…at a much more proficient level than I could ever dream.
I now use my college Photoshop skills to work with my personal photos and projects and to play games with my friends where we take turns cropping each others' heads onto bodies not belonging to us…like these.
What I did to Amy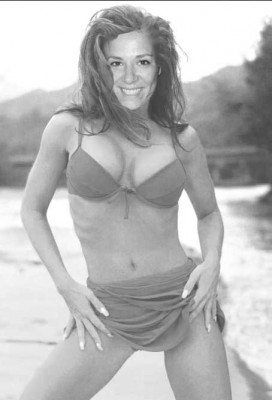 This is what she did to me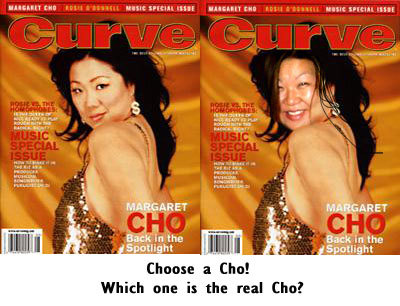 I can haz college degree now?
Anyway.
When we decided to move the website over to a new format it went like this:
"I want it to look like this."
"Ok, what are we using?"
"I don't know, but I want it to look like THIS."
"Well, we can make anything look like that, what software do you want to use?"
"Hmm.  Ok.  Yeah.  I'll get back to you with that."
A few weeks later we'd chosen a software, Pete set aside a few hours and he made internet magic once again.  Then I did my portion and played blog interior decorator. Voila! Website.  This is how we do it.  I make with the pretty, he makes with the functional.
But today?  I AM GENIUS!
I have been very cautiously blurring the line between his job and mine. Partially because he's not here at my beck and call right now.  Partly because I hate having to ask him to do something that he's inevitably going to take about 3 minutes to accomplish…after which he sighs, leans back and ask "what next?"  All Smuggy McSmuggerson. To which I answer, "Yo, Mr. Smarty-pants, here, take this egg, incubate it in your uterus and then push it out 9 pounds later! Cause, you know what?? That's what I can do!"
Ok, see that? That conversation has never really happened because I know there will be other things I need him to do and you always treat the hired help with respect.
With him not here, I have to call and say "make this happen"…and he says "what?"…and I point at my picture again and say "this"…and he says "yo, dingbat, I can't see that paper you're rustling around, ya know"….and I push another pin into my Petey voodoo doll and he says "OUCH! My neck is so sore these days!"
But we've been getting it done. But not at the speed I prefer, which is = I decide I want something and it should be done 10 minutes later and I can't sleep or think about anything else until it's completed. I will take this moment to admit that this way of thinking does not generally apply to things like laundry, dishes or lawn work.
I've been slowly self-teaching myself to take care of these little jobs that I can do.  With each accomplishment I feel more and more in control of the website.  Which, in my mind, has been Pete's website where I contribute graphics, content, administration and anything else not pertaining to looking at html.  Yet, today, TODAY I jumped over that hurdle!
A couple of night ago I downloaded something for the site, I made an attempt to implement it with my rudimentary Unix skills and let me just put it this way: FAIL! Things that were once perfect were all jumbled up and it was all wonderfully craptastic now.  I hurriedly went back and undid everything I had attempted to do and it all went back to normal. I sat at my desk in a sweat, hoping that I'd fixed it before Pete saw it.
My kung fu is weak.
Later that night we went around and around and tried to do what I wanted done to no success.  We both gave up and decided it was for another day.
I dreamed about it last night.  Does that tell you anything?
So, this morning I got up, I Googled and read and figured out what it was that Peter needed to do when he found the time.  Then, I got brave.  I opened up that terminal window and I started plugging away, copy and pasting the code because that way I would get it right, I worked in Vi (which is a thing I HATE!) (see how smartzy I am?? I gots the lingo!), and when I'd followed all the directions, I hit the refresh button on my browser.
What was my sweet little website going to do?
I envisioned being highlighted in the new TV special "When Stupid People Try To Make Websites".
It worked.  Oh yes. You read that right.  It worked. ME. I. DID. SOMETHING. THAT. WORKED!
I went to text Pete about how cool I was, how much I rocked, how I would be standing outside ready to sing autographs soon….he told me how he just did something that saved his company HUGE bucks, he was a golden god of his office and if I was a rock start HE was the Beatles.
So, here I sit, acknowledging that my husband is way smarter than me.  But he'd better watch out because I'm sneaking up on him and I can match MY own clothes.