I have awesome friends. They have awesome kids. They love my kids. They touch my heart.  I have AWESOME friends.
Mandy Willis is 7 years old. She has Neurofibromytosis and is battling Optic Glioma and other non-malignant brain tumors.  She and Rachael have bonded since we met in the spring, becoming the closest of friends. How close? These are Mandy's own words:
"I helped my friend Rachael at a sleepover. I handed her my first Webkinz named Butterscotch. She is a brown and white doggie. Rachael was sad because she missed her mom. The sleepover was at my house. We listened to smooth and rock and roll music on my ipod. Butterscotch got Rachael's mind off her mom. She was happy and so was I. We went to sleep. We are best friends and are never not friends for as long as possible. In the morning, we ate breakfast and took Rachael home. Our sleepover was cool. We have had a lot of sleepovers so far. She came a couple of weeks ago to my house and I come to her house sometimes. I want her to come again. She comes to play day sometimes too! I can't wait for her to come again."
"We are best friends and are never not friends for as long as possible."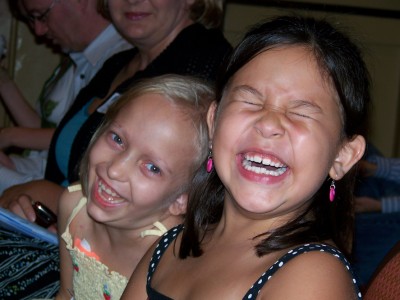 Oh. Mah heart, it's melting.
To make it even better, Mandy's older sister Alannah, wrote this sweet bit of lovely poetry the same day she took the underwater picture of Peyton in this month's new header.  Alannah is 14 and one of most WONDERFUL 14 year olds, ever, hands down, no questions.
And as I sit with five candles flickering before me like stars
I remember Peyton's laugh, soap bubbles, pearls, from her mouth.
And as I sit with the keyboard beneath my fingers
I wonder what else there is to say.
And as I sit with the world in a box in front of me
I marvel at the number of people who don't know.
And as I sit with life all around me
I am amazed at how fast life can disappear.
And as I sit unscarred by tragedy
I hope that I can remain so unblemished forever.
And as I sit with love enfolding me
I feel for the people who don't have that luxury.

And as I sit with no sickness inside of me
I see my little sister's face at the forefront of a line of people
who do.

And as I sit with the means to tell the world three feet away from me
I pour hope into my body from the pitcher we all share
As improbable as it seems.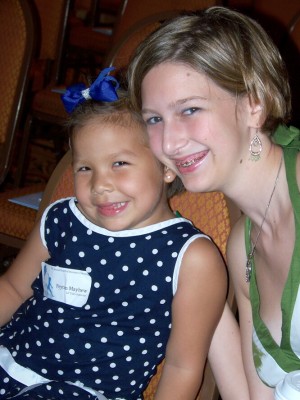 Oh yes, Alannah is made of awesome.