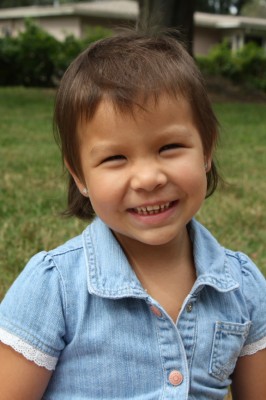 Peyton's last day of chemo picture (taken with my awesomely new and fabulous camera!)
Peyton's announcement:
"I showed all my friends my port at school today and Hayden didn't believe it was a port.  He says it was my boob and it's not a boob, it's my PORT. So I showed him that it wasn't my boob and he said my port looks weird and it looks like a boob. And Hayden's not my friend anymore."
My response:
"Well, you know it's a port and that Hayden is wrong.  So, just don't tell him about it and DON'T show him and it'll be ok."
Peyton's comeback:
"Well, ok, but when I do have big boobs, I'm not going to show him."
Think I can get her to sign that one in blood?
************************************************
Check out my review for Kajeet (and comment if you love me!) at

And I forgot to tell you about my post for Sunday at 5 Minutes For Special Needs

PLEASE PLEASE PLEASE Nominate a child for the Blogs Can Change Lives contest at 5 Minutes for Moms
You can help put 10 Sony Playstation PSP packs in the hands of critically ill children
If you don't know a child to nominate, please see my list of "Kids Who Inspire Us" and pick one