**I'm over here today too, being shamelessly sassy and complaining about my husband's ability to make me LIKE things.
Nathaniel has a field trip this Friday and we're both looking forward to it.
This is the first field trip in 2 years that I'm committed to chaperoning AND I think I'll actually be able to go.
There have been so many times when he needed me, or just wanted me, and I couldn't be there.  It truly and monumentally sucked to watch him stiffen those big boy shoulders and accept that once again HIS mom wouldn't be there for the class party or driving to the field trip.
I wanted to.
As much as I ever want to hang out with fifty 10 year-olds.
I wanted to for him.
I wanted him to look at me and know that I cared enough to drop everything and dedicate that day to him.  I wanted him to know that at that moment there was nothing more important to me than being there with him.
Time and time again I had to tell him that he wasn't the most important thing to me…even if that's not what I meant, it wasn't true, and there was little else I could do…I know he felt it to his core…my actions have spoken so much louder than my words in these situations.
Every day this week, sometimes several times a day, he would stop and ask me, "Mom, are you still going on my field trip on Friday?"
I have to answer him the only way I can, "I plan to, I'm sure going to try."
We both know what that means.
I know that there is always the chance that I will have to disappoint him…again.
He knows that it wouldn't be the first time Peyton woke up with a fever on a day that we had plans.
Friday, come hell or high water, I will be going on this field trip with my son.  This boy on the first stepping stones of manhood, in whom I'm starting to see the shadows of the laughing, thoughtful adult he's going to become.
I want to laugh with him.
I will bask in the pride of who he is.
I can't miss this.
It's going by much too fast.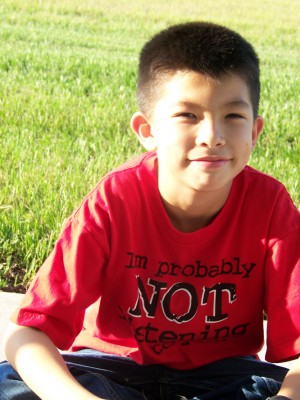 ps…just in case you missed them, I put up a whole load of new pictures on Flickr of our weekend at camp…and NO, none of them are of the potty escapade….I promise.