I'm starting this post by letting everyone know how thrilled our household is that the Indianapolis Colts are Superbowl champs!! It was a great game and we had a great day enjoying it. The Vancleave family invited us over to enjoy a day of poker and football, and we had much fun with both. We walked in the house and Nathaniel took off with a group of boys, and this is no exaggeration, I did not see him once until it was time to leave. They played games and did all those fun things boys do.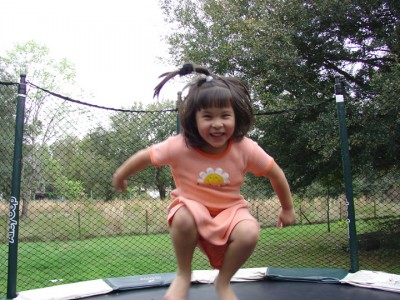 My girls know how to party hard!
Rachael and Peyton roamed through the groups of grow-ups being cute and loveable. Both enjoyed the animals that are kept by Jimmy and Linda, the ducks and chickens, bunnies and goats just delighted the girls. It was the first time many of these friends had seen Peyton since she was diagnosed and they were all heartwarming in their support and encouragement. Many could not believe how happy and lively she was and it was an opportunity for them to see how well she's been doing.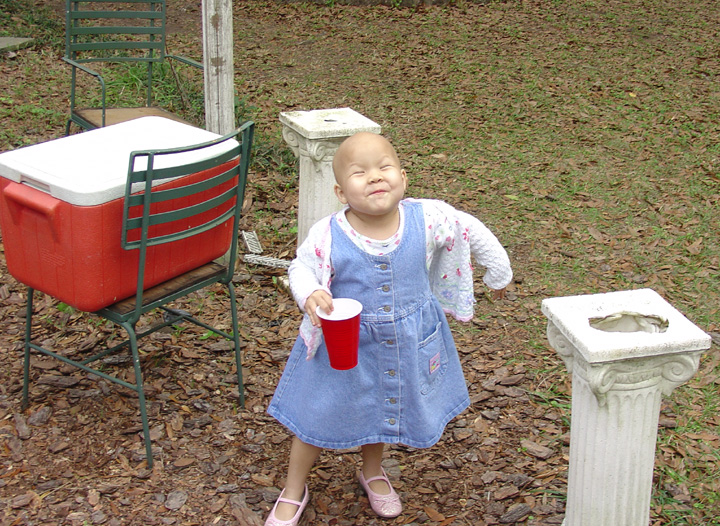 Not sure what brought on this bit of hamming, but it's pretty funny.
Today we began a new week of treatment, this morning was a spinal tap and medication administered via port. Each spinal tap is different, I keep thinking she'll react the same as she did last time, but she pulls new tricks each time. This morning she fought so violently throughout the procedures that we agreed that she may need more medication next time to sedate her a bit more completely. She was really ticked off with our nurse Cindy, she complained that "it's too dark when Cindy sits on me!" I have to laugh, but it's not fun for any of us when she fights. She cried after and then got upset because the tears kept pooling in her ears while she spent her mandatory 30 minutes flat on her back. She recovered quickly and snacked while being pampered by clinic staff. We'll be back Tuesday through Thursday for chemo and Wednesday will be a blood infusion since her counts are dropping quickly. They seem quick to me, but I guess they're pretty average.
We have 4 people on Team Peyton as of today. Pete and I count as two of them, so we're hoping to get many more to join! Kids are more than welcome to come and be a part, we're planning to camp out right on the soccer field at USF for the whole night. No one has to stay all night if they don't want to, you can come, walk and then go home if you'd like, but we need people to be there at different times throughout the event. Please check out the team website at TEAM PEYTON and see how you can help!
Lisa and Harry Greenaker have returned home from Miami. It was a painfully agonizing day on Sunday as they traveled and he is suffering greatly. Their boys are thrilled to have their parents home and I know it was a wonderful day of reunion for the Greenakers. Thank you for prayers said during this stressful time for our very special friends, but the hard stuff is going to continue as Harry heals and goes through physical therapy.
I had the kind of nuclear breakdown tonight that was ugly and left me feeling like a terrible parent. The kids were doing stuff they know not to and not doing stuff they are supposed to and I just came unglued. Is it so much to expect the kids to pick up their stuff and put it away? I yelled and ranted and basically threw a 33 year old temper tantrum. I gave myself time to calm down and the kids did what they were kick started into doing and then I spent moments with each child, apologizing, asking for forgiveness and making sure they know how much I love them. It's so easy to get frustrated and tired and just let all that out at the wrong time and in the wrong way. I do ok most days, but every now and then it just overwhelms. I took some special time to pray, ask for forgiveness and for patience and peace. I'm still feeling sort of awful about the whole episode, but tomorrow is a new day to do better and to get back on track with my kids, my husband and God.
f.r.o.G….fully relying on God
—-Anissa