As a physical manifestation of how improved Peyton felt today after receiving her blood yesterday, she wore a red cape and swooped through the clinic as "Super Peyton!"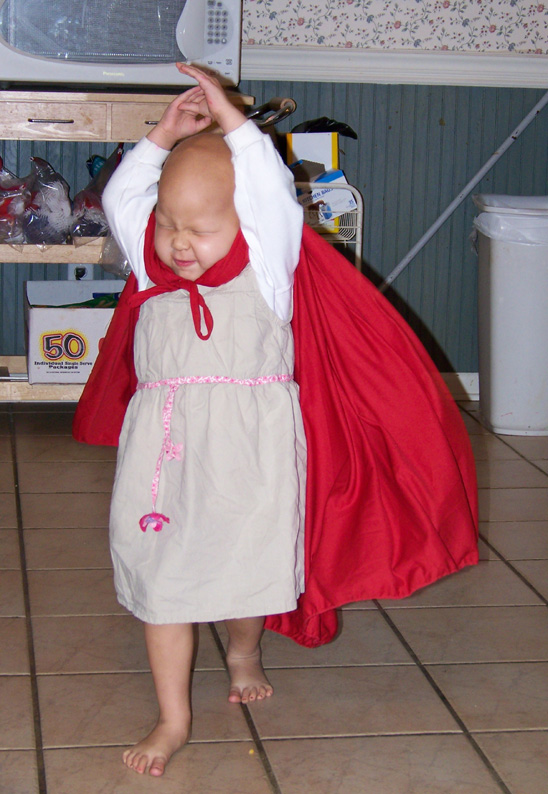 It was a neat compromise that we found, superheroes apparently don't use binkies (pacifiers). For the entire morning while she was in costume, she didn't need one, but as soon as the cape came off and she laid down for a nap, she was back to "BinkyPeyton".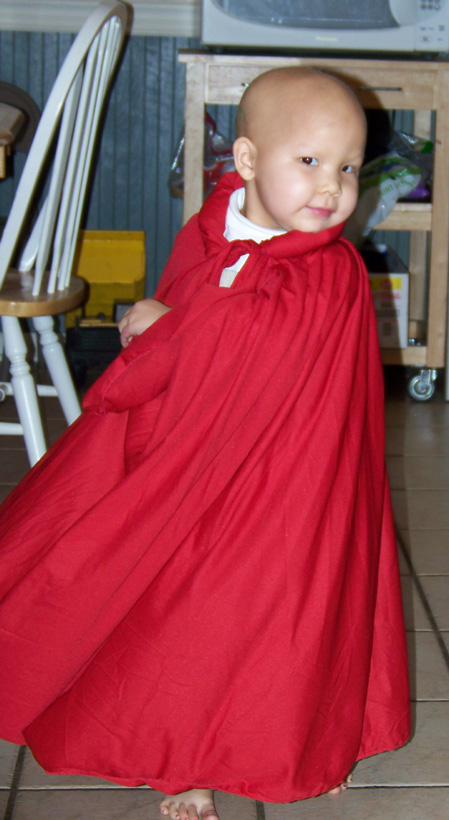 I'm hoping that if we get her some fancy shmancy Wonderwoman underoos we might be able to get her potty trained! Who knows?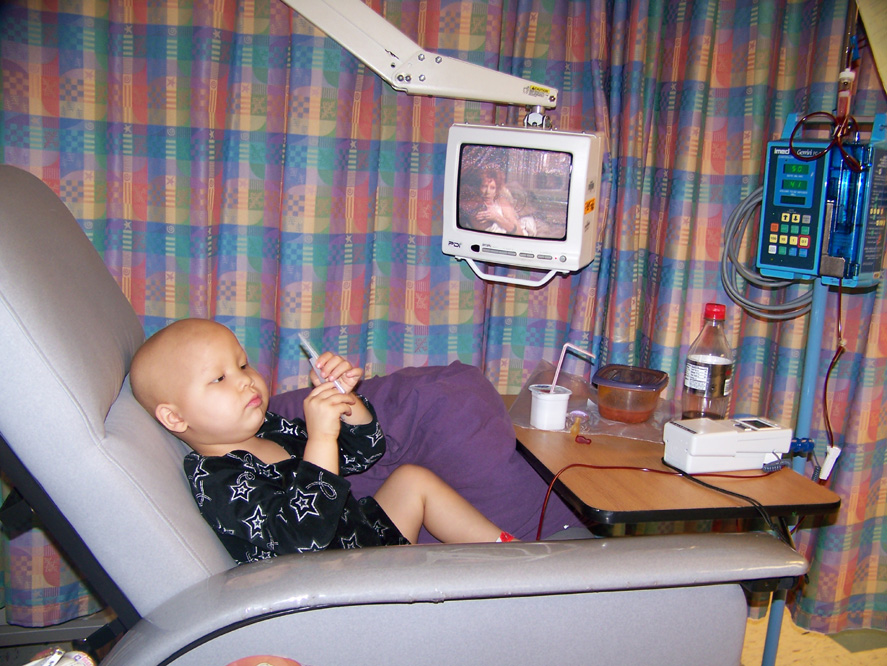 Peyton's clinic throne while getting her infusion of blood
Her week at the clinic is done, her counts are dropping steadily as her chemo builds up in her system and we'll probably have a fairly sedate weekend as her germ fighting abilities start to fail. It is always fun to see how much she perks up after getting her "Mr Red" – packed red cell – infusions, all sassy and sparky. I asked if I could have her leftovers, but they said no….those killjoys at the clinic!
Tuesday night we were surprised with an offer of hockey tickets for the Lightning game against the Kings. Adelaine's family was able to be there and we enjoyed a night in the Richie's Rascals suite, provided by the Children's Cancer Society and Brad Richards Foundation. They fed us (all diet cookies, I swear!), gifted us (cutest Richie's Rascals t-shirts for all the kids) and gave us a great night to spend with friends doing something totally fun. My mother in law Sharon was able to attend her first hockey game and agreed that once you've gone to a game in the suites, it'll be hard to go back to watching a game in the regular seats. We're so spoiled now. Peyton and Adelaine were both in fine form, just running around at full speed the whole time. It was a wonder to see them both feeling good at the same time because generally, one or the other has not felt their best whenever we're together. Of course, I say that now and we'll end up roommates at the hospital over the weekend!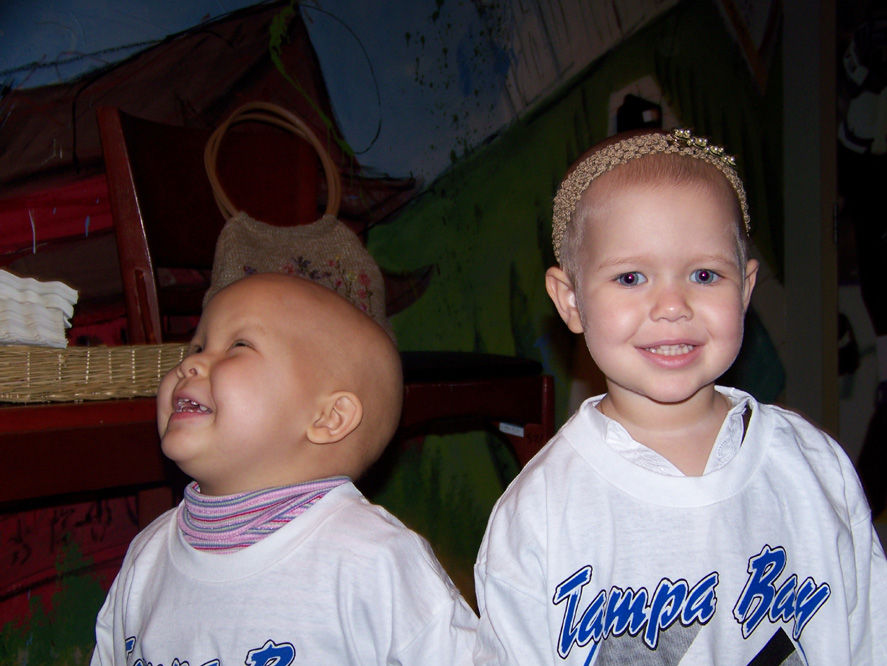 Peyton and Adelaine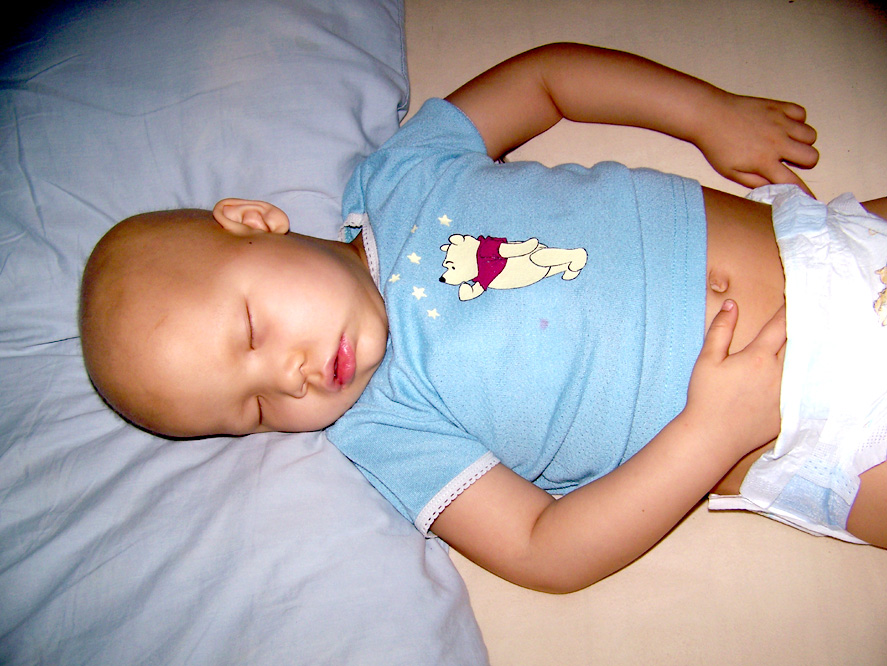 Peyton enjoying the ride home
Rachael had her first art class last night and she just loved it. Maybe with a creative outlet for her art, she'll stop writing on doors, walls, toys, clothes, her sister….anything is possible.
"Rachael, did you write on this (insert item here)?"
"Nope."
"Are you sure?"
"Yeah."
"Wow, then who else might have scribbled Rachael all over it?"
"Maybe Peyton?"
"If you're going to do graffiti, you're going to have to learn not to sign your name, Rachael."
Nathaniel has begun a season of baseball at his school and totally loves that. This week he scored the game winning run, so he was hyped up about it. He's been trying out lots of new sports since he took his hiatus from tae kwon, and he's liked each new outing. I'm hoping something really grabs his attention and becomes his "thing", but he's sampling a bit of everything to find out. Tonight he has an art class as well, I'll have to scan and post some of his work, he's pretty darn good.
We don't head back to the clinic until Monday, when she gets a dose of Vincristine in her port and a double shot of Peg-Asperiginaise in her legs. It's a painful and unpleasant day, but it's not long and it's not often.
Team Peyton is getting more support every day. We're up to 5 team members and we've pulled in some generous donations already. We're not even close yet, but I know our team goal is within our reach.
Peter's found Craigslist…which is like a constant yard sale that you can enjoy from the comfort of your home computer. It's dangerous and addictive and I'm thinking of starting a support group. They actually list free stuff that people just want you to come and take away! Do you know how tempting it is to buy someone's 36" tv that has a cracked screen and broken color tube so that it often has no color, but when it does it looks great!??? Two words for you: It's FREE! I'm a little dizzy just thinking about the possibilities.
Tomorrow I head off with Rachael's class for a field trip to the Aquarium. It should be fun, and I am so looking forward to a day with my girl.
This week has much improved from my meltdown earlier, and maybe I just needed to get some of the steam out of my system…..maybe I just needed to scare the living daylights out of my kids….who knows? But it worked and things have been working way smoother since. I love the fact that our friends and family fess up to the fact that we all lose it and threaten our kids with produce items every now and again. Just doing it the best we can.
A special verse came my way this week, I'm going to share it with you.
Colossians 1:10-12
And we pray this in order that you may live a life worthy of the Lord and may please him in every way: bearing fruit in every good work, growing in the knowledge of God, being strengthened with all power according to his glorious might so that you may have great endurance and patience, and joyfully giving thanks to the Father, who has qualified you to share in the inheritance of the saints in the kingdom of light.
f.r.o.G…fully relying on God
—-Anissa
ps…for all of those who watched "Married With Children" in the early 90's….Peyton has channeled Al Bundy!