Last night I was lying in bed and just looking at Peyton as she slept. All I could really think about was that today was going to be her birthday and how much a celebration of her life it was going to be for our family. In a year that has brought so many fears about the uncertainty of that precious life, it was important to me that we take this day to just reaffirm that she is our gift to share for what time we have, whether it's 10 days or 100,000 days.
Yesterday Peyton and I were surprised by some wonderful women of the kid's school who provided a birthday party for Peyton. There were decorations, cupcakes, candles to be blown out and presents to be opened. There were stacks and stacks of cards made by the loving and compassionate hands of kids from kindergarten to seventh grade. My heart wonders at the impact she may have on a child that sees her every day, who's life she's changing and influencing, and when I see the love that opens up to her from all these sweet kids, I see that she impacts everyone. The cards that came were just amazingly full of joy and hope for Peyton. She was gifted with a homemade Dora the Explorer blanket and a Minnie Mouse doll that smells like strawberries (which fascinates Nathaniel to no end!) and our family was given dinners via gift cards, but truly, the big one was a BIG one. The box was huge….the wrapping job was immense….it was a Dora the Explorer doll house, it was enormous! And she loved it. It just lit her up like fireworks. We didn't even make it into the house when she started in with "Can you open it? Can you open it now? Can you open it?" Whoever thought of all those little twist ties that keep all the pieces attached to the cardboard has never had a three year old at their elbow waiting at the end of their patience….they are not nice people.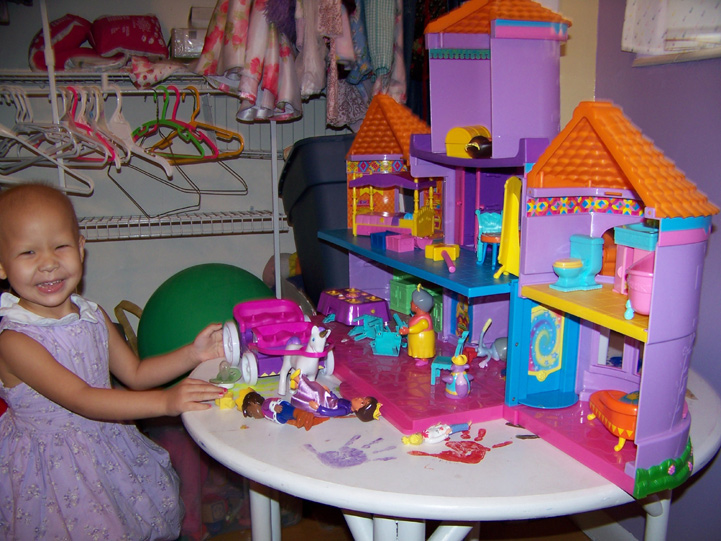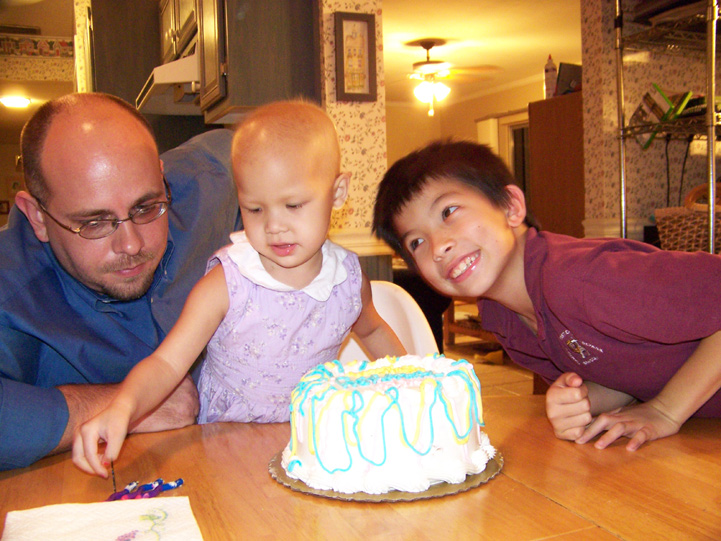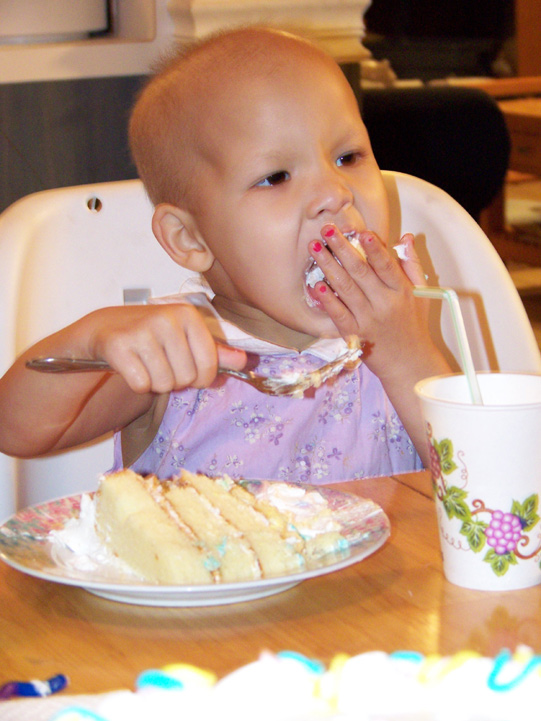 Tonight we had dinner with Grandma Sharon and had cake and ice cream, we opened more presents, and she had a free for all! She got a picture memory book and body crayons (something she is actually allowed to draw on herself with), she got slippers for those cold hospital floors and new pjay-jays (what she calls pajamas), a Barbi doll, a Dora purse, a tool box (that is Daddy's girl through and through) and the kicker was a scooter from Grandma that just made her day!
This morning Rachael was shepherd #5 in the Christmas program at her school. She had one of six speaking parts and she did a great job! She smiled and hammed it up, she sang her songs and she didn't even flinch when her sister escaped our clutches and rushed the stage to give Rachael a huge hug mid-performance. It was sweet.
Tomorrow Peyton and I are going to spend the morning with Adelaine and Angela. Angela is hosting a birthday tea party for the girls and it should be a lot of fun for the little ones, we're looking forward to it. These are just special friends, I am so glad that we've met them and they just make everything we go through a little easier to deal with. They are a huge blessing in our lives and we are thankful for the friends that they've become.
We celebrate our daughter's birthday today. We remember the day she was born and we saw her beautiful little face for the first time. We commemorate that day with cake and presents and telling stories about her with our kids and sharing family time. But we've also learned an important lesson this year, to celebrate every day, not to wait for one day to let our children know how essential they are to us and how much we treasure them. Let's make sure to love our children every day that extra little way we do on their birthday, hold nothing back, give them our everything. Peyton told us at dinner tonight "Jesus loves us" and she's absolutely right, and that's the way he loves us, with everything.
Wow, I do get onto a ramble on these things don't I?? Ok, I quit now!
Love to you all!
f.r.o.G….fully relying on God
—Anissa