We've barely put our Thanksgiving indigestion behind us and we're already hitting the Christmas parties! We're training our kids now to hang with the big dogs. Thursday night the Children's Cancer Center had a Christmas party for all their families to enjoy time together with food and crafts for the kids, Santa came and thrilled lots of little hearts and we got to be with our special friends who've been one of the blessings from this cancer.
Whispering "Nintendo DS, Nintendo DS, Nintendo DS" in the old man's ear!
She said "God knows I was a good big sister this year"…I guess she decided to pull rank on Santa.
You'll notice that Santa had to observe the 6 inch rule so there would be no screaming involved.
It was a fantastic night even though I'm sure for some the thought of spending a night in a room with a bunch of kids who have cancer is just a depressing thought. But these children are so happy, they just radiate joy, there was so much laughter and fun in the air, that if you didn't see little bald heads everywhere you wouldn't have known anything was wrong with any of these kids. They have so many life affirming messages to share. They are God's gifts every day.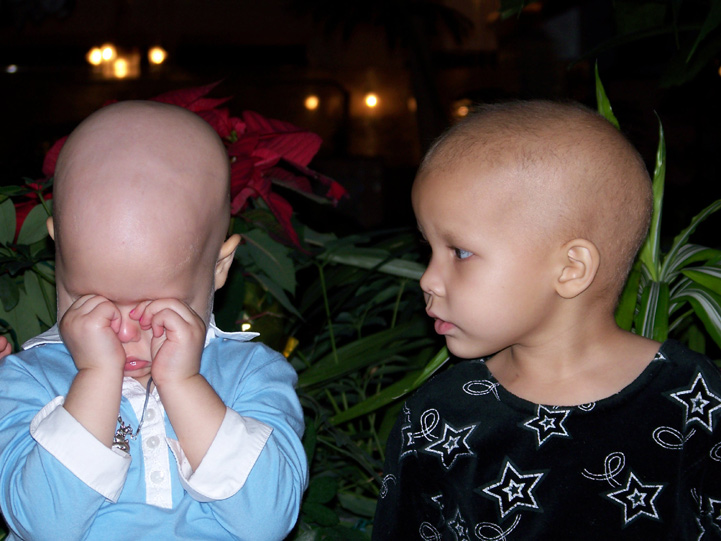 Examples of bald heads! What cuties
And I think that's one of the joys of these events. We don't pity each other, we don't feel self-conscious and we feel a complete empathy with every other person.
There's a great picture of Nathaniel as well, unfortunately, I just realized he had food in his mouth, so it won't get posted.
Tomorrow we go back to the Children's Cancer Center again for a party for Nathaniel and Rachael to celebrate with their big buddy mentors, Marie and Charlie. They are just so excited about this party because it's all for them and I know it's going to be tons of fun. We're also planning special holiday outing for them. Marie's going to take Rachael shopping for all the people on her Christmas list, to a movie and dinner….that's sheer heaven for my 5 year old. Charlie's going to do the same for Nathaniel….I have a feeling that Charlie will be teaching Nathaniel the joy of one-stop shopping at somewhere like Wal-Mart or Target, such a guy thing.
Peyton had chemo on Monday, and I haven't posted much about it. She got major doses of methotrexate both in her port AND in her spine, she also got vincristine in her port, and a flu shot. She was pretty jazzed about Mom and Dad getting our flu shots as well, she held our hands and told us how brave we were. The meds aren't making her sick, but they are really wearing her down. Her energy levels are so low, she takes 4-5 hour naps during the day and she's just pale as a sheet. But she's happy, she doesn't feel bad, she just isn't feeling perky. So, we stay home most days, she sleeps and I try to squeeze a nap in with her or get stuff done around the house. She doesn't have to go back for more chemo until next Friday, but we may go back for blood counts just to check and see if she needs a little pick-me-up.
Peyton's current round of chemo has been pretty easy going, it's been 10 day cycles, so we've had nice gaps between clinic visits and she's felt tired but good throughout. She's had no transfusions and her blood counts have stayed great! She'll be finishing this cycle (called interim maintenance) on Friday and then she'll have two weeks off until she starts the next cycle (delayed intensification). It's really going to be very hard on her system. This is going to be a terribly rough patch of chemo. The even harder thing is to know that we have to go through a second interim maintenance and a second delayed intensification afterwards, followed by radiation treatment. Some days it feels like it's never going to end. Other days I start to see the light at the end of the tunnel.
The next cycle involves a huge round of chemo meds: vincristine, dexamethasone (the steroids, please pray for us all!), doxorubicin (nicknamed "the red devil" for a reason), peg-asperiginaise, cytoxin, ara-c, thioguanine, and methotrexate. National spelling bee here I come!! Those 5th graders ain't got nothing on me. It's a horrific combination of meds, her counts will completely bottom out, she'll require lots of transfusions during this phase, she'll be neutropenic the entire time (meaning her immune system will be non-existent) and her new grown fuzzy hairs will totally fall out and she'll get the shiny bald head. If she's going to be sick during a phase of treatment, this would be the one I would expect to see it. From talking to other parents, delayed intensification is sometimes a period where they have to be admitted to be given treatment depending on their reactions. So, we'll pray for the best and wait until it happens to worry about it.
On the flips side, we got FANTASTIC news from the doctor regarding Peyton's new leukemia cells that were found in her bone marrow result. They were myleoblastic cells, which means if she had AML leukemia that would be a problem, but because she has ALL leukemia and they were not lymphoblastic cells, it means that she is not having a relapse as we feared. The doctor also clarified that with her blood counts remaining nice and high on their own, it's a sign of remission, because if she were relapsing, her counts would be low as they were at her diagnosis. If her counts were to drop unexpectedly and not recover, if she were to have unexplained fevers, start having bone pains or other symptoms then they would immediately do a bone marrow and check, but they are perfectly satisfied that she is still in remission and doing wonderfully. Thank the Lord for that news, it was the greatest Christmas gift Peter and I could have received.
Peyton's birthday is on Tuesday, she'll be 3 years old. She's just changed and grown so much over the last year. Her new thing is to climb into the driver's seat of the car and stick the key into the ignition, she just thinks that's the coolest thing. So, yesterday she did that and my friend Kim was there and asked her "Peyton, are you going to drive?", and my two year old has perfected the "are you stupid?" look already.
She says to Kim "No, I'm not 4 yet."
We're planning to do family night on Tuesday with a little cake and presents, and hopefully plan a little party with friends during her chemo break in the next few weeks. We really do want to have a nice celebration for her, she deserves it for being the amazing little soldier she's been this year.
f.r.o.G….fully relying on God
—Anissa
My friend Lisa has 8 children and I'm going to have to ask her if she's ever managed to get a picture with all of them looking at the camera at the same time, smiling without one of them trying to pick their noses!