Friday night, Peter and I dragged our tired, frustrated carcasses back into the apartment he keeps in Alabama.  An afternoon of scoping houses had turned futile and we found ourselves in a Mexican standoff.
I'd fallen in love with a gorgeous house full of natural light, sprawling open space and a kitchen to die for.
On a behemoth of a piece of property that would require an entire league of lawn service professionals to keep it in check because of the ridiculous incline and the rock outcroppings.
Peter was giddy over a fabulous property that was perfectly flat, tons of room for a future pool and a dog's draeam habitat.
The house was pretty, but claustrophobic and I couldn't wipe out the memory of MY house.
*sigh*
Granted, we had a bit of GIMMEGIMMEGIMMENOW syndrome.  Neither house was going to work and after one day I was already prepared to just give up on buying a house and buy a double-wide somewhere.
On Saturday morning, we had renewed spirits and a resolution to be open-minded to each other's opinions on the house options (which translated into "I will snark uncontrollably about any house I don't like until you realize that I will make your life an unending blistering hell if you try to make me live there") and concentrate on the good of each place.
We give new meaning to the phrase EPIC FAIL.
Can I just take this moment to tell you how absolutely gorgeous our realtor is?  Totally unfair.  Skin like a pool of milk, bouncy hair, tall AND thin, Angelina Jolie lips and really freaking nice. I hate her. Unless she gets me the house of my dreams and then I'll make sure to hide my resentment for her under a shiny cloak of gratitude. Lucky her, she's extremely good at her job, or I'd have to run her down with the van.
ANYWHOOOO!
On our drive up to start another day of house-stalking, we decided to just ask God to lead us to the right house. We had a group prayer that we'd find it with as little difficulty as possible.
We saw the first house.
Then the second.
The third barely registered.
Number four and our enthusiasm began to wane.
Eat! We'll eat and then we'll be happy and the rest of the houses will be better.
Right?
RIGHT!??
Jessica talked us into checking out one last house before we went to drown our sorrows in waffle fries.
And we drove into a totally unglamorous driveway.
We walked up a perfectly non-exciting sidewalk.
The door opened.
Now, I'm prone to a little bit of exaggeration when I'm really excited about something.  I can go overboard in my wild infatuation.
This next part really happened.
The door opened and a choir of angels FREAKING sang!
Yes, sang. A chorus of angels greeted us at the door.
I think the song was something by Van Halen, I'm not sure.
This house was everything we'd hoped to find.  We all loved it instantly and found it's quirky personality a perfect match for our family.
The essentials were all there: huge closets, storage space galore, a kitchen that made the singing angels choir weep, beautiful hardwood and almost an acre lot.
The unexpected grabbed our heads and shook us into complete submission:  a full finished basement, a second two car garage, enough room that the Jolie-Pitt clan could come and visit and there'd be no threat of overcrowding. *although, on a side note, if Brad did ever decide to visit, there'd be no worries about a place for him to lay his pretty head.
I love.
I love with big pink puffy hearts and scribbling Mrs. Anissa New House on my binder!
So, I'm strolling through the house, checking out all the giddy-inspiring goodness and thinking to myself, "God, if this is THE house, please just make it clearly obvious and give me a sign."  What kind of sign does God give a househunter?  I'm not sure, but I was pretty sure that something would happen.
You doubt me?
Almost immediately, Peter starts yelling for me.
The house was vacant but it had been staged, meaning that the sellers had someone come in and throw in some pretty furniture and decorations so it wouldn't look so empty and vague.
In the basement, in a forgotten corner of the house, on a wall in a storage room was our sign.
SIGN, I tell you!
Five feet tall…in full living color…is a poster…Barry Sanders.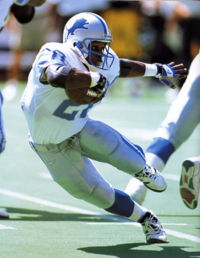 That's all we needed to know.
That house is OURS!
**I have photos of THE HOUSE, they will be coming shortly!