Pay It Forward was a great movie…I bawled like a baby, but still thought it was a powerful movie.
And it became a bit of a buzzphrase, a catchphrase to encompass anything that benefitted others.  Sort of overused to the point where "paying it forward" ceases to mean anything.
Yet, it's a wonderful idea.  Why wouldn't you want to take something good that is done for you and channel that effort into making someone else's life a better place?
Come on! Aren't you just aching for some feel-good-warm-and-fuzzies right this second?
Can you smell the ask coming on?  I never claimed to be subtle.

The summer after Peyton was diagnosed we had the most amazing fundraiser, so many friends came out to help and it touched us so deeply to see the community come out and support our daughter. Plus, no lie, we really needed that money, having a sick child requires some serious bank.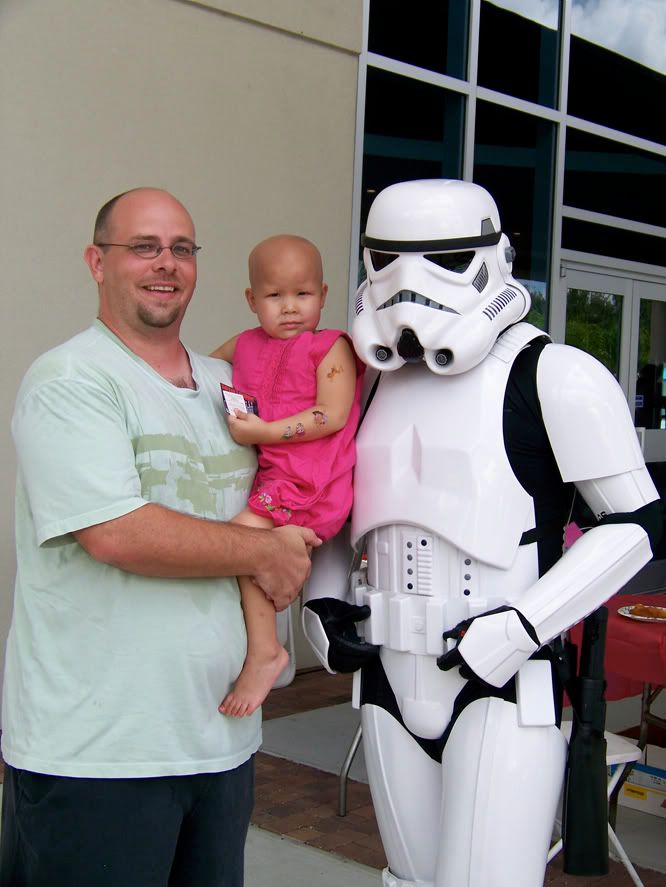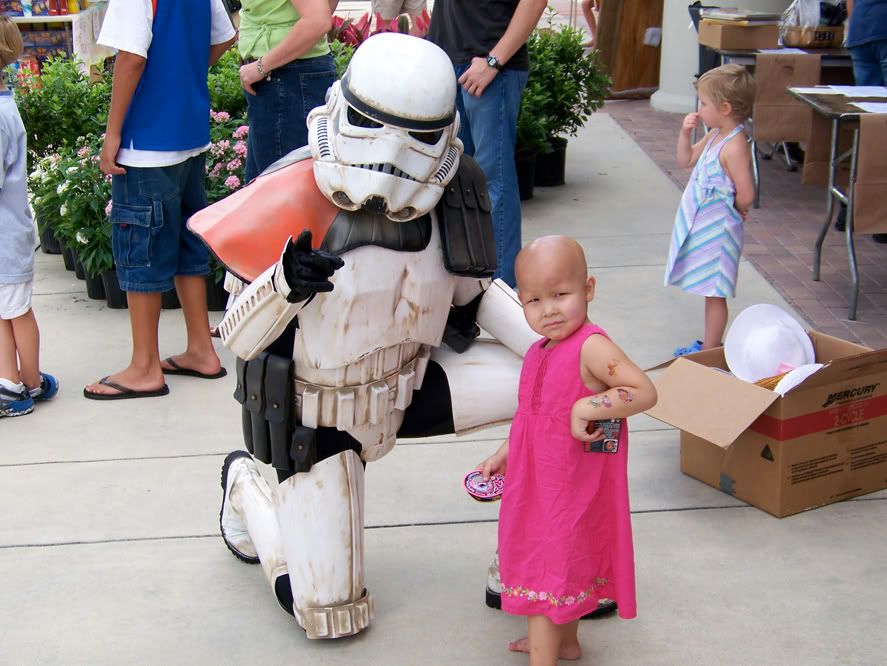 (For real, Vader sent the troops out for her fundraiser…because we are just THAT cool)
It was such a relief to know that there was money put aside for her costs, all her meds, her copays (4 times a week ain't cheap), the special food she craved, the gas to the hospital an hour away, the meals for a week inpatient…all of those things individually weren't too bad, but they were adding up and UP and UP….and it hurt.
We were profoundly blessed by the many people who came out and made that day a success.  I cried more than a few tears at seeing God work wonders in our lives.
We have the chance to be that wonder for someone else.
I've known so many kids who've had fundraisers over the years we've been in this. Some I've shared and tried to get the word out…others I haven't…there is always a fundraiser going and I never want to numb you to the seriousness of the need by constantly shoving your face in it.
This one is just particularly close to my heart.  This girl is family to us.  Her mother is like a sister to me.
Mandy is 8 years old and her life has never been average.  Even before her cancer diagnosis last spring she has been under medical care for a genetic disorder called Neurofibromatosis (cookie for the one who can pronounce THAT!).  In the easiest terms possible, Mandy's body lacks a specific gene that you and I have that tells our body to NOT make tumors…and her body grew a malignant tumor in her brain, called an Optic Glioma.
That in itself is enough.  Enough to deserve the help anyone can give, enough to garner the compassion of any person who understands what it means to fear for your child and especially from those who are blessed to not have to.
But everyone knows this economy.  Everyone understands strain.
Just this week, Mandy's father took a substantial pay decrease to keep himself in a job and with insurance.  Mandy's mom had to quit her job as a teacher last year at the time of diagnosis to be a full time caregiver.
Times are tough for many.
These are beyond tough.
These are devastating.
So, that said…it's time to pay it forward.
The local elementary school is allowing us to hold a fundraiser for Mandy's family and I am hoping to be a part of making this day a blessing to the Willis family. Thanks to the generosity of some amazing friends, local and internet, auction items are being pledged (but we can use MOOORE if you have something to give and want to) and I know they will have a huge impact on the success of the event.
But I want to offer all of you an easy and simple way to help Mandy's family.
If you look to the right of this post, in the first sidebar is a shiny new widget that says "Are you in My TopSpot?"  By clicking on that widget and for a $10 dollar donation, you can put your link on my site in the #1 spot….until someone else comes along and donates $10 and puts THEIR link in the #1 spot.
WHAT?  Who do they think they are?
You OWN that #1 spot.
And all you have to do to get it back is to donate another $10 and you are magically deliciously bumped back to the #1 spot.
Every penny goes to Mandy.
If you only donate once or you donate every day, that is an amazing gift to a little girl who doesn't even realize the depth of her need, her brother and sister and her wonderful Mom and Dad who are trying so hard to make a normal life for them all.
Not good. Not outstanding.  Just normal.
In all honesty, and I'm going to do something that apparently flies in the face of the blogger's covenant to never talk about "how many readers I have"….if each one you readers were willing to part with $10, we could put over $8-9000 in Mandy's account. (Even if you don't have a blog, you can put a link to another favorite site or to a site you'd like to bring to the spotlight)
SERIOUSLY!
For $10.  And you get a pretty shiny link. Haven't you always wanted one?  Didn't you ask your parents for one and they always said no? Well, Anissa is saying YES, you deserve that link now!  <–and I also promise to stop talking about myself in the third person.
So, that's it.
Just donate for Mandy.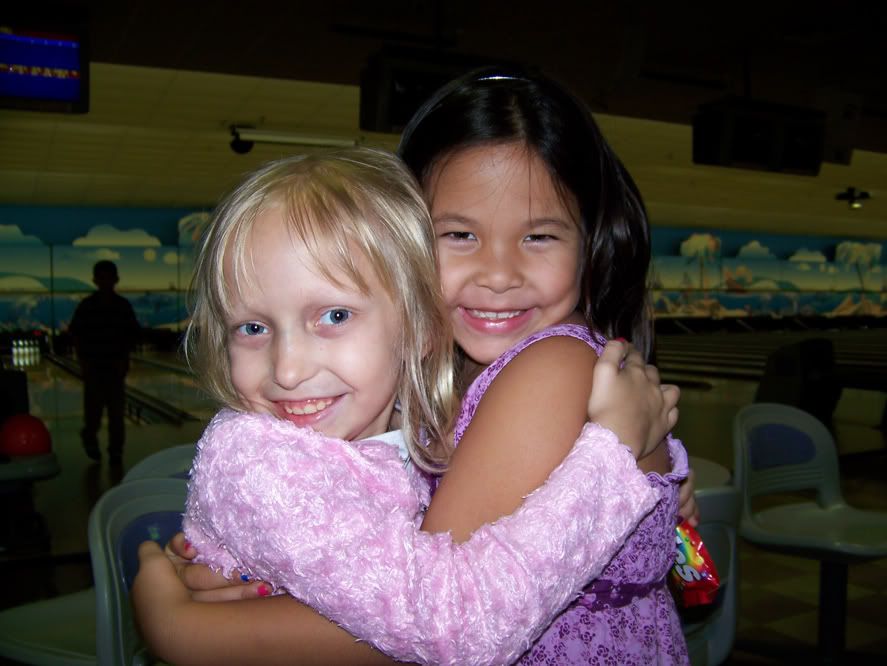 After that, if you don't give me $10 for Mandy I'll tell everyone your heart is just made of stone.