Hello?
What?
Are you talking to me?
Are YOU talking TO.ME?
And I don't mean that in a Robert De Niro sort of way, I mean that in a oh-my-holy-freaking-heck-I-am-partially-deaf-NOW sort of way.
Why would I be partially deaf you might ask?
I totally wouldn't answer you because I.CAN'T.HEAR.YOU.
My friend Natalie drove up from Tampa and we pinky blood oath swore to take our girls to the American Girl store *kicks self in ass for not thinking of this idea first and raking in the unbelievable amount of $$$* for an afternoon of gleeful girly goodness.
The cause of the deaf?
There is a level of squealing that doesn't just burst the ear drum, it actually makes the ear drum disintegrate into microscopic bits that travel up the ear canal, enter your brain and eat it from the inside out.
There are few events that can cause that sound to occur….boy band appearances and American Girl stores.
Should you be the unlucky witness to a boy band appearance AT an American Girl store? Run for your everloving life.
But for all the brain-eating squeeeing and rushing madly back and forth between clothes and accessories and books and movies and furniture and scooters and OHMYGOSHdidyouseethebackpackIjusthavetohavethatNOWNOWNOW! it was so much fun to watch Rachael just losing her mind in a shopping frenzy of indecision.
Did I mention that Rachael's Kit doll totally got her hair done? In a chair? By a doll stylist? Costing $10? For a DOLL'S.HAIR. Seriously, by a chick who gets paid to live the dream of playing with dolls for a living.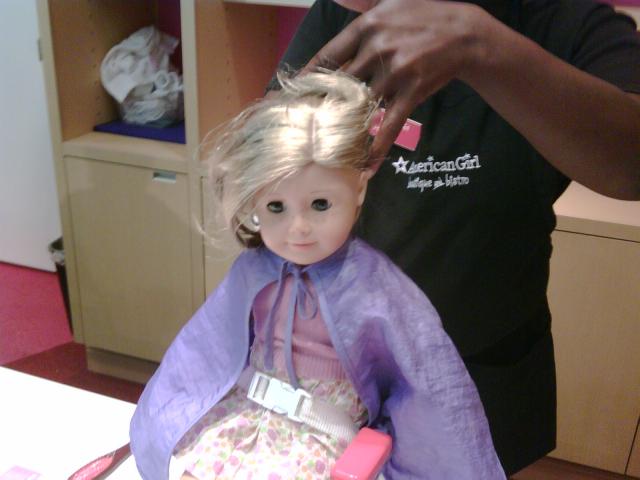 That doll is so much better groomed than I am. Not FAIR.
*sigh*
No matter.
Because, in return, I got this: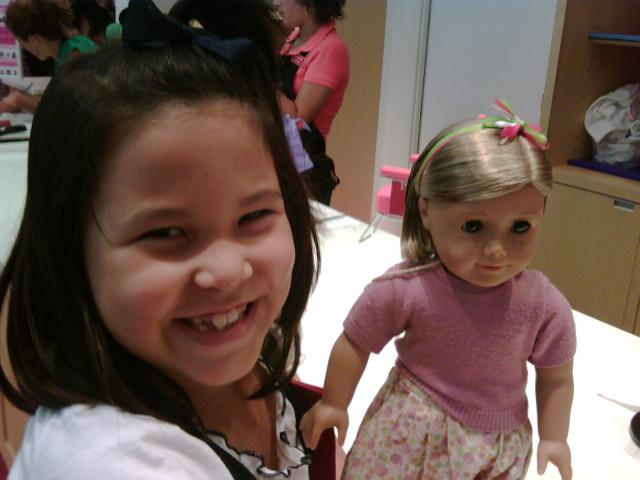 Totally worth it.