There are certain benefits to having a sick child.
It's not ALL bad.
For example, I have a handicap sticker and a fabulous parking spot at any Wal-mart on the planet.
For two and half years I've had a built-in excuse to avoid anything I didn't want to attend…ok, maybe she didn't have pre-bubonic plague…five times.
And hospital swag.  Oh yeah!
If you're going to be stuck in the hospital for a week,  you should at least get to score some freebies (which are never really freebies because GOD KNOWS we're paying for it!) and take home some supplies.
Latex gloves – which came in extremely helpful when Peyton went through that patch of constipation and required suppositories.
Tape – well, cause you can never have enough tape (I may or many not have ran out of scotch tape one time and wrapped up a present in Hypo-fix).
Bandages, gauze, socks, pull-ups, flashlights, Bacitracin, alcohol swabs…and band-aids. LOTS and LOTS of band-aids.
I cut the bottom of my foot while I was up at Pete's last weekend and the crappy thing about a cut in that place is that no matter what, you can't STOP irritating it!  So it kept popping open and bleeding and getting all funky.
Six, people.
That's how many empty band-aid boxes I found in all the band-aid-y places in my house. I couldn't even find one of those retarded little round ones that has a peice of guaze the size of a chicklet.
My kingdom for a band-aid!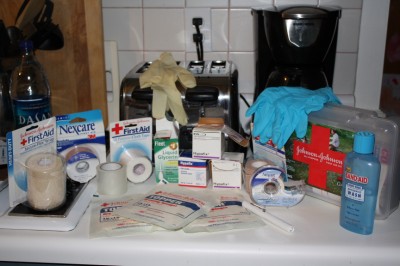 I have hoarked enough medical supplies to host my own episode of Grey's Anatomy and I can't find a band-aid.
Thank you, children!  When my cut gets infected, I develop gangrene, find out that amputation is my only option, and have to have one of those special made springy prosthetic feet, I'll know that it was because you can't stop putting band-aids on your windows as room decor!
Grrrrrrrrr