Can I tell you how much I love my son? I gave birth to one the most amazing boy children ever to plunge neck deep into a 40-gallon container of Legos. There are days I want to just wrap him in a tortilla, dip him salsa and chew him up.
Then there are moments like this when I think he is a tool of his father's master plan to drive me insane, because this is such a MAN moment there is no other possible explanation!
I have a nasty habit of forgetting everything what I need to get at the store if I haven't written it down. If I don't have my blue (or pink or yellow, whatever, it's not color specific, I'm not THAT weird) post-it note telling me all the things I'm supposed to buy, I run the risk of getting a little too excited in Target and going berserk. Thank-you cards! Lip gloss! Converse All-Stars!
I'm getting a head rush just thinking about it.
On this particular trip to Target I was over halfway there when I realized I'd forgotten my post-it. Instead of letting my brain explode, I dig into my HUGE purse and grab my Peyton-notebook, which is a book I keep at all times because the child could have an artistic outpouring and if there is no paper and pen to be found it can lead to a catastrophic meltdown.
I hand it over to Nathaniel, who at 10, can read and write with the best of them.
"Dude, write this down."
"Ok."
"Toilet paper. Dog food. Toothpaste." Then I look over to make sure he's writing it and I see:
t paper
d food
t paste
"Nathaniel, will you know what these things are when we get there? Because I need you to know what you wrote."
"Yeah! Toilet paper, dog food and toothpaste."
"Okeydokey."
I go on with the list, and we make our way to the store.
Because I'd just gone through the list both mentally and verbally, we were flying through Target with the greatest of ease. Then I figured I should check the list just to make sure I hadn't blanked on anything.
Toilet paper? Check.
Dog food? Check
Toothpaste? Check
Wach/k/b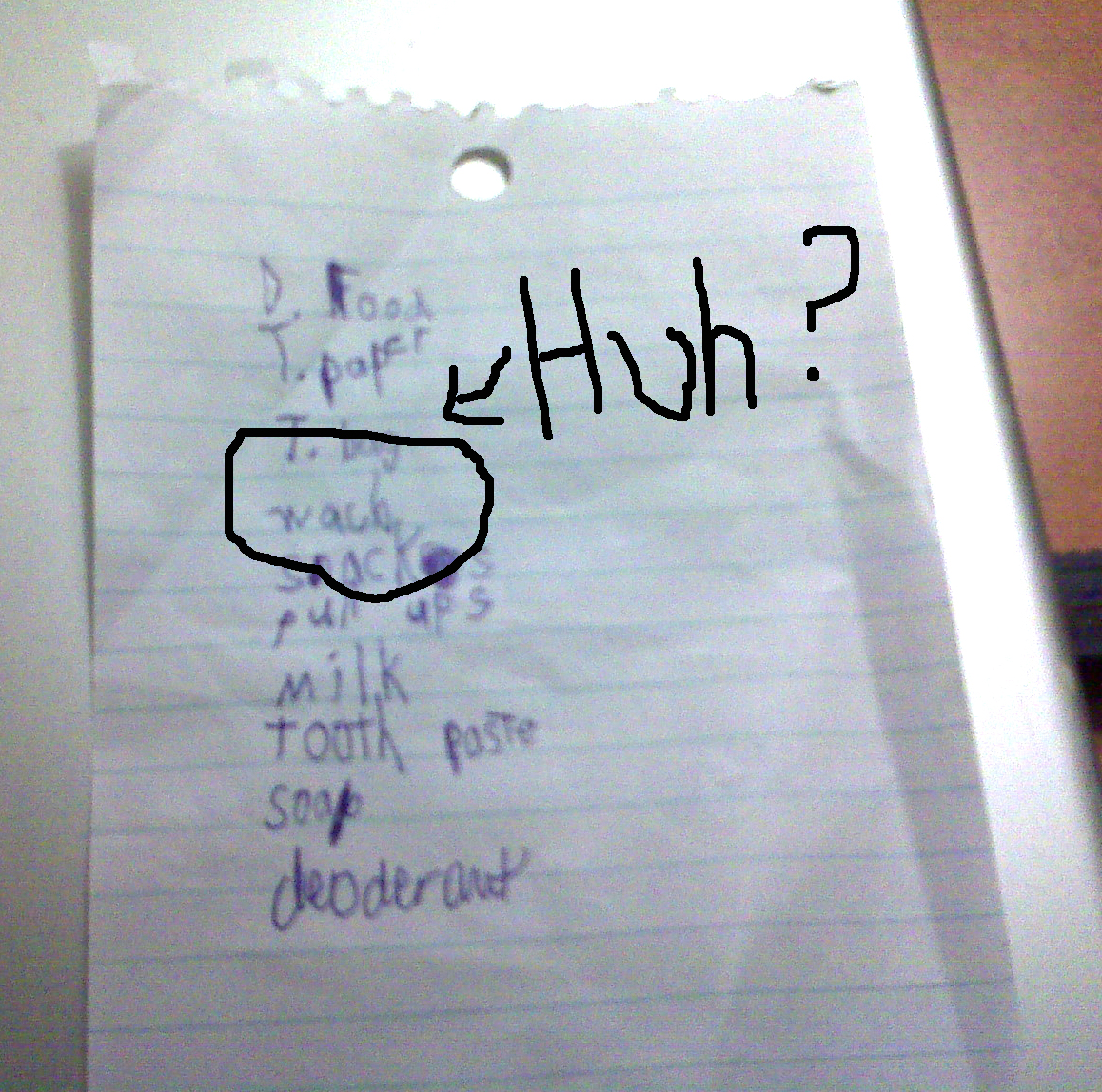 What the…?
"Nathaniel! Son, what does this say?"
"Ummm, I don't know."
"SERIOUSLY! You just wrote the list, what does that say?"
"I don't know, you're the one who told me what to write!"
"Don't try to use logic on me, son, because I know I didn't tell you anything that looks remotely like that word. Just tell me what the letters are supposed to be so I can try to figure out what we were getting."
"W-A-C-mumble mumble mumble."
"C-what?"
"It's either a k or a b"
"Nathaniel, what word do you think is spelled like this?  Does  it LOOK familiar to you AT. ALL.?
"No, not really, no clue."
"Did I tell you we need a wackabee (pronunciation of WACKHB)?"
"I don't think so."
"Dude, do you even know what a wackabee is?"
"No, but that doesn't mean we don't need one."
"If you can point me to a wackabee, ANYWHERE in this store, I'll buy 10 of them."
At this point, the Grandma behind us is about to bust her supportive hose cracking up behind us. We give up.
Neither of us has any idea what we were supposed to buy. We still don't know what a wackabee is. The world may never know.
And when it all seems too much…concentrate on something cute: