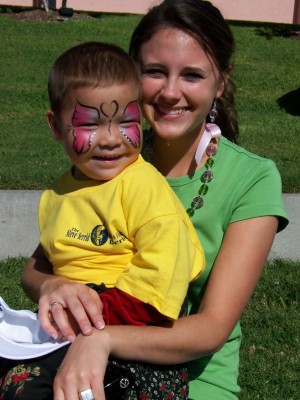 This is Dana Bertoch.  She's a 20 year-old nursing student, a volunteer at the Children's Cancer Center, and an amazingly gifted crafter with jewelry. Dana has a business called Glamour Flops, designing flip flops with gorgeous Swarovski crystals and hand beading her own Bella Beads line of jewelry.
She is a cancer survivor.  4 years out of treatment for Hodgkin's Lymphoma, she is the epitome of where I hope see Peyton in future years.  Happy, healthy, living a life full of purpose and love.
Dana donated this gorgeous handmade necklace for me to give as a contest prize.  I've been waiting for just the right moment to use it and I can't think of a more perfect time than now.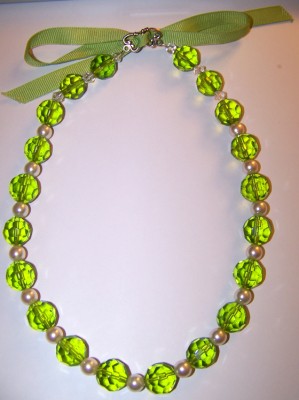 But, WAIT! There's MORE!
This is Samantha Lee.  She's 9 years-old and just completed her treatment for the same kind of cancer that Peyton has battled.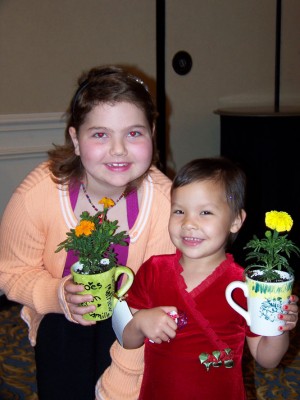 Sam and her mom wanted a way to make a difference in this cancer journey and they decided to promote the Bravery Heart program.  They donate their full sales commission to different pediatric cancer charities.  The sales of Bravery Heart items provide hospitals with a bead program for young oncology patients….they receive a necklace at the beginning of treatment and they add a bead for each procedure, surgery, treatment….at the end of treatment they have this amazing badge of honor that represents their strength and courage throughout a tremendous battle.  The Bravery Heart program is given to the children free of charge, dependent on the sales of the Bravery Hearts to support it.
I was provided this Bravery Heart by Sam and Joanne Lee, and I'm going to add it to the contest prize basket as well.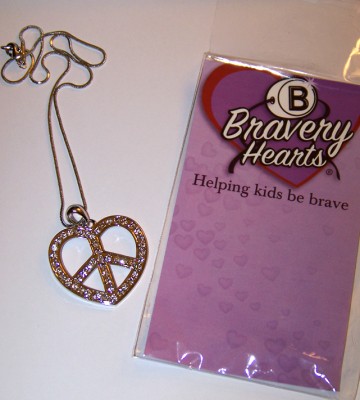 Here's how the contest will run.  We need you to donate to sponsor our team for the Cure Kids Cancer Challenge, benefiting the Pediatric Cancer Foundation.  Every person who donates, no matter the amount, will be entered into the contest to win both of these wonderful necklaces.  All of you who already donated are already entered to win.
If each person donated $5 we could raise over $5000 easily….but feel free to dig deep in those pockets though…for the kids fighting, the ones who sacrificed years of their lives to win, the ones who lost, the ones who have yet to find out they're going to be in this battle.  You are giving them a chance at winning.