We are officially a trophy family.
That makes my kids trophy kids.
I get to be a trophy wife.  Heh!
Ok, so REALLY? We are a trophy-painting family.  In preparation for the Cure Kids Cancer Challenge benefiting the Pediatric Cancer Foundation in September, the kids and I joined some other local families all too familiar with the childhood cancer life to paint pottery tiles to be used as awards at the event.
Peyton.
Breakable, fragile pottery.
Bottles of paint.
If this isn't a recipe for disaster I've never seen one.
But it was much fun to spend the evening with friends, the kids painted beautiful tiles, I painted "an adult painted that?" tiles.   And they'll land in the hands of people who devoted a lot of time and energy and money to helping us fund clinical trials and research projects in the search for cures and better treatments.
If you'd like to support Peyton's Cure Crew and give a donation to our family's team, you can click HERE.
I believe in my heart that we're going to find the answers and children like Peyton will never have to face the uncertainty of cancer again.
Check out these pictures: The tile painting party
And then see my BIG PRE-K age Peyton in these pictures for Special Exposure Wednesday at 5 Minutes For Special Needs.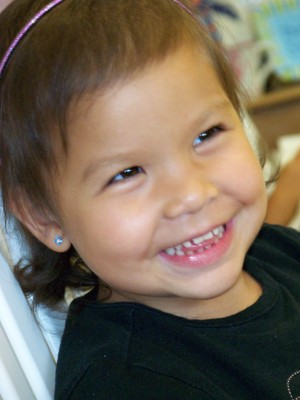 And let me take you back to 2 years ago and remember how FAR she has come. Steroided up, mouth sores, constantly sick from the chemo, bald…that smile was the most beautiful thing I'd ever seen.