I'm sure you were expecting sometime deep, remarkably thought provoking for my next post….but, seriously, I'm in Alabama right now and this is as good as it gets. Plus, I have plans to spend some great quality time with those aforementioned neglected kids.  But this just couldn't be passed up.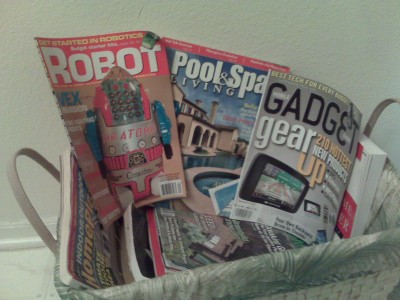 Peter has been living here ALONE for almost 7 months now.  This is the basket of supertechgeekery found in his bathroom reading basket.  "How to be the supertechnogeek your friends will envy", "Can your supertechnogeekness make it to the next level?", and YES that is a ROBOT magazine there.  
I'm leaving right this second to buy him a Playboy.  
–Anissa