Peyton will be having surgery to take out her port.
Last week at her clinic appointment, I was so excited to see her counts rebounding and to have that proof in my hand that her body was truly recovering from the treatment that I totally forgot to update about her non-fuctioning port.
Grrrrr.
That port.
For those that aren't familiar, a mediport is a cathetar under her skin that has allowed her to have needles stuck into a little round "septum" instead of having to have IV's in her hands or arms.  It's been the way she's gotten chemotherapy meds, antibiotics, pain meds, blood products and probably a thousand other things over the course of the past two and half years.
It was the first step in her treatment…we'd only known that she had cancer for a few hours before we found out she'd be going into surgery as soon as they filled her with enough blood and platelets to get her through a surgery…to put this strange thing inside her body.
"It makes it so much easier."
Have you sent YOUR toddler off to have foreign objects stuck into their body, Mr. Doctor?  Then don't comfort me on how easy it will be.
I could be a tad hostile.
I was so monumentally scared to send her off.
The fakest smile I've ever had on my face. E.V.E.R.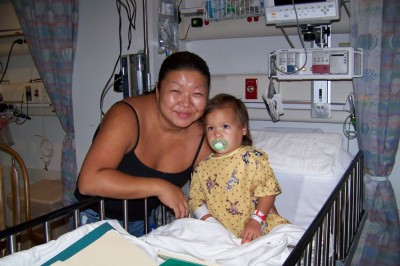 I remember seeing her come back with that tape on her chest and that lump of plastic surrounding the needle inbedded in her soft baby skin.  The band-aids where they cut into her flesh with their knives.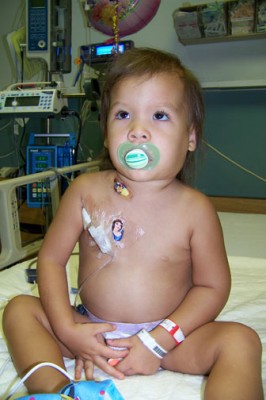 Needles.  Knives. In my baby. It was so wrong.
We got used to it.  She understood the ritual, she was comfortable with the numbing cream put on before they stuck her, she would watch carefully as they performed each step of the procedure…once even telling her nurse, "You need to put your glasses on first, Cindy"…she had a preferred kind of tape and she understood that her "tubie" was important and to be protected.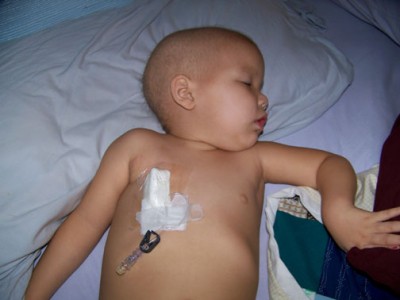 We came to appreciate the port for making the journey easier.  (HEH, they were right…whatever!) Peyton doesn't even remember a time she didn't have a port…I think she has a hard time believing me that not ever kid out there has one.  Certainly, a large number of her friends do…but she'll figure it out.
The  port has now stopped working. Kaput! As if it knows it's time is up and it's exhausted.
But it's done its job and a part of me is happy to see it go.
I thought I'd be more afraid of getting rid of it…never let it be said that cancer moms think rationally. I worried about having to make the decision of when to take it out, can't we just leave it in forever?…again, with the rational? Not so much.
That choice is being taken away now.  Because the port is no longer working properly, they can't flush it out or put meds in it to make sure the cathetar part doesn't clot, which could be dangerous for her.
It's coming out.
I met with the surgeon today and we chatted about the simplicity of the procedure…the potential risks…the freedoms that are going to be allowed her when it's gone…she's going to be able to participate in gymnastics and sports that have been off-limits.
It'll truly be the last physical tie to her cancer.
It's going to be gone.
I feel good about it.
Surprised?
Me too!  I can't wait to see it gone. I actually want it out.
I asked the surgeon if we can have it and he smiled at me, it's apparently not an unusual request.
He said that some have a big celebration and smash it with a hammer or they frame it as a memento of what they've survived.
I have other plans…prettier plans.
I can't wait to show you….but you'll have to wait to see.