Today we met up with Mandy and Natalie Willis for lunch after Mandy went to clinic for a finger poke. Mandy and Rachael have really hit it off in the past few months. Close in age and with the chatter speed only found in little girls, they were destined to be friends. It's been a rough few months for Mandy though. The amount of chemo she's had has really rocked her and she has been in a really moody place the past few times the girls have been together. I guess Peyton's steroid phases have been good in preparing Rachael for Mandy's moods when she doesn't feel well because when I've explained what Mandy's going through, she understands the best she can. Rachael is a patient girl, with a big heart and she's waited and waited for the breakthrough moment.
They had their moment today! Natalie has been hurting, watching her daughter struggle through dealing with all the physical, emotional and psychological changes of being thrown into a cancer world she's not old enough to fully understand but more than old enough to fear. And she always apologizes when Mandy has an outburst. If I didn't remember how it felt, I might laugh because it always takes me back to the days when Peyton would lay in my bed and scream at Pete, "You. Need. To. LEAVE! GET OUT!!!" and that grown man would leave the room in tears. I remember Peyton curling up into a ball on the floor of the clinic, unable to cry she was so emotionally overwhelmed, growling and biting anyone that came near her. I remember the flat-out fear and awe in the eyes of Nathaniel and Rachael when they would even venture to try to say hello to her or GOD FORBID touch her and she would react like a wild animal.
And we weren't trying to make new friends at that time of our lives. We were desperately holding onto our sanity through it.
Rachael bounced to the car after a fun lunch with Mandy. When we got into the car later, she made the comment to Nathaniel, "Mandy was so much nicer. She is so much fun when she feels good." I'm so proud of Rachael for being compassionate enough to understand the difference between someone who is mean for the sake of being mean and someone who can't help the outbursts because of the way they feel. It's sad that she has to know that, but she's handled it well and she's thrilled to have this special friend in Mandy.
We had our family group night at the CCC and at the end of the night Natalie and I did a child-swap. She took Rachael home for a sleepover and we got Zackary for the night. I'm sure I got the better end of that deal as the boys were darn near silent on the way home and went straight to Nathaniel's room to shut the door and commence with the boy play. Both boys are products of a home with 3 women with father's who work away from home, leaving them the sole producers of testosterone in the house. They get together and just wallow in the BOY of it all. It's great! The brief moment I talked to Natalie on the phone, there was much high-pitched squealing and giggling. If she's not mildly deaf by morning I'll be surprised. If she's completely deaf, I'm sure that leaves us half responsible for the hearing aids she'll be needing.
Peyton had a ball at group tonight, being loved on by her favorite boy in the whole world, Cody Bertoch. She went in with these two pitifully thin ponytails on her head, the hair is getting so sparse from her constant shedding. But she was proud of those ponytails, limp and sad as they were and she pointed to them all night, "Do you see my TWO ponytails?" I think she equates more ponytails to more hair….would not shock me if she asks me to do four ponytails tomorrow. And I'll do it if it makes her feel pretty, because bald or thinning or whatever you want to call it, she looks beautiful to me. She's very frustrated with her hair, especially as she sees more and more of her friends with their hair growing back so fast. I know she looks at Adelaine's long, blond ponytails and can't quite figure out why she has so much hair. They got bald together, shouldn't they get hair together? She's always gorgeous to me.
I got some great news today regarding the upcoming plans for our site! A couple of days ago I registered with the BlogHer network. This is the biggest community of women bloggers, blogs as varied as the women authors behind them. This is becoming a powerful voice for women these days, and a great way of putting your words into the world. They also have one of the best ad networks available for blogs. I registered Hope4Peyton with them and hoped to be able to get some ads set up for the site, but I was disappointed to find out that they weren't taking any new applications for their ad network and I added our name to the waiting list. They have millions of bloggers registered, they probably have thousands of blogs waiting on their list….they emailed me today with this awesome news!
"Hello! We're not ready to open the ad network to general applications, but we saw your wonderful blog on our waiting list, and didn't want to keep you waiting! While the general public is not able to register at this time (and we ask that you do not share this link at this time), we've enabled our application process for you here (link removed)
Please rest assured, we've already pre-approved your site, so if you can create your profile and either scan and email or fax in the documents you'll find here: (link removed) we can get you all set up for ad code. In order to get your site added quickly, we ask that you please submit your documents within 2 business days of creating your profile. We know it can be tricky to get to a fax – so please email me if you've got any questions or problems.
Thanks so much for your interest in BlogHerAds! We can't wait to have you in the network.
All the best,
Jenny"
I am so jazzed about this! Peter and I are scrambling to make some changes to the site we have currently so that we can put the ads up in the next few days. We are also making our plans to roll out a new website too. Please pray for this to be a success, it could mean many things for us. I'm hoping that it will keep me from having to find an outside-of-home job and also provide a platform to raise HUGE amounts of awareness for pediatric cancer. When I saw how many blogs there were for families battling autism, it really hit me that these people are raising awareness of the needs of these kids one reader at a time. The biggest blogs get hundreds of thousands to millions of hits a day…we are NO WHERE near those numbers, but I think it can happen with some work. I am excited to see what we can do with it!
Stick with us through the changes, although things might shift around a bit, it'll still just be us. I consider how far God has brought us along this cancer journey and I can't wait to see what lies ahead.
f.r.o.G…fully relying on God
–Anissa
Pictures from the Rays vs Cubs game
101 Reasons why we're still married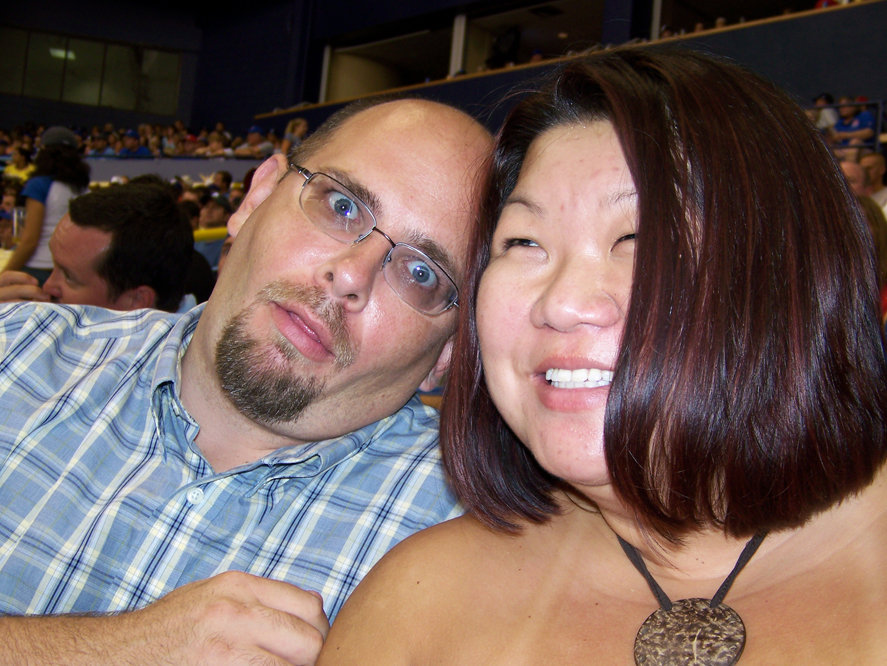 Adelaine Powell, Molly Edwards and Rachael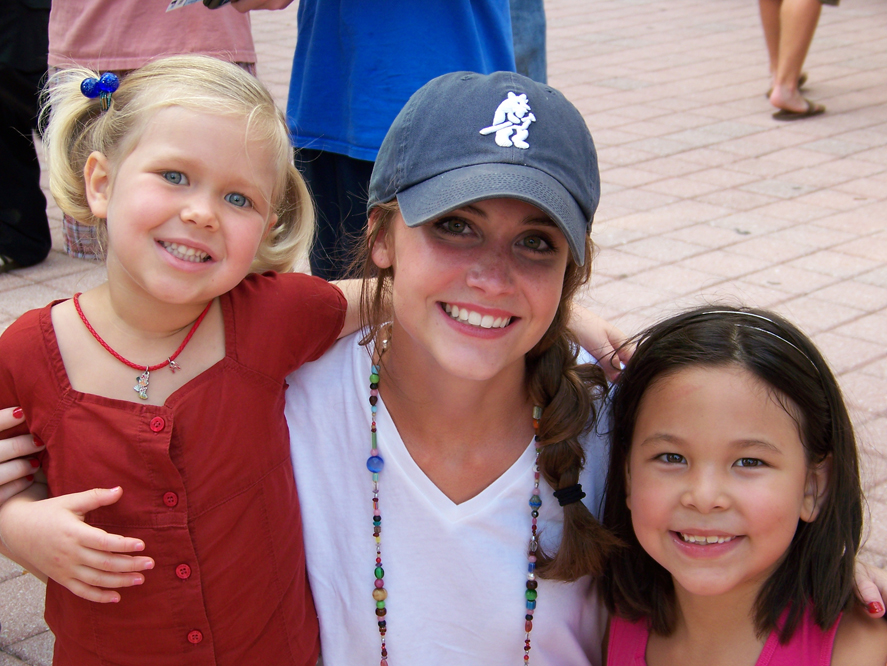 Rachael and Peyton having a glorious SISTER moment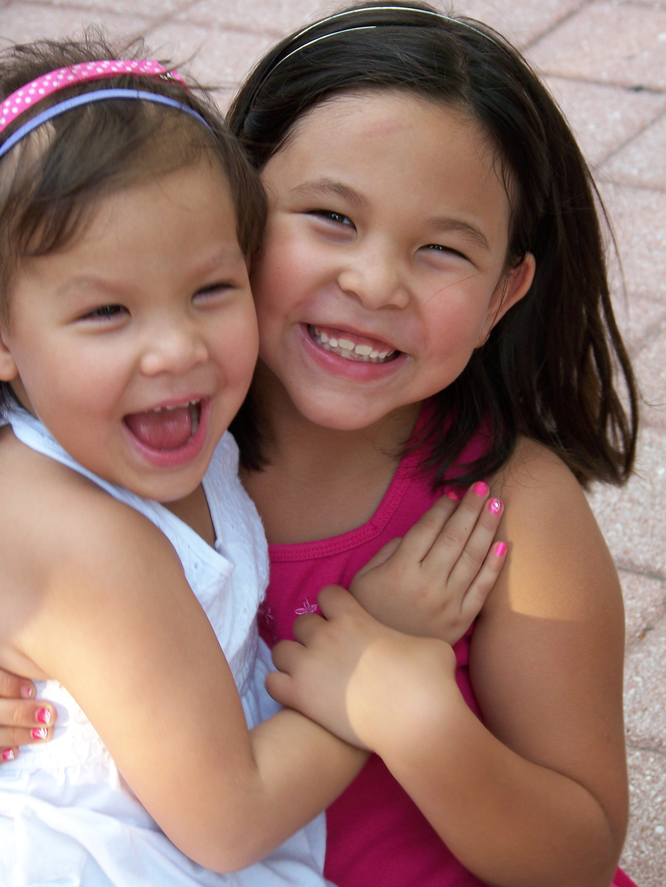 Adelaine, Molly and Rachael – 3 amazing cancer fighters!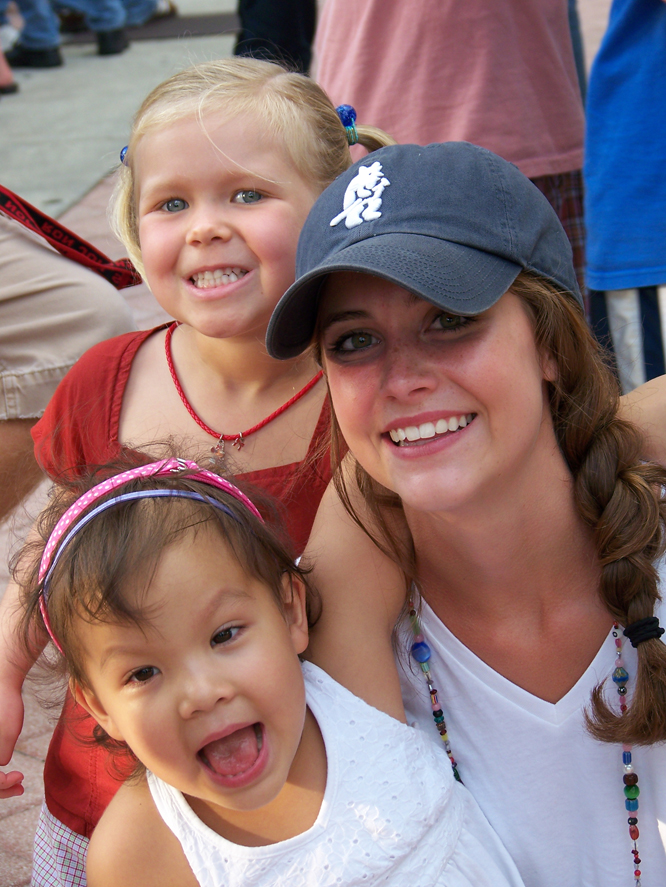 Peyton and Maya Houtz