I have to admit that I'm glad to see 2006 behind us. It's been one of those years that we'll always look back on and be able to pinpoint exactly where we were and what we were doing. A friend told me that whatever you're doing on New Years night is a sign of what's to come of the year….I was home with Peyton on steroids and Nathaniel sequestered to his room because he has a vicious case of strep throat. If this is a sign of my upcoming year I fear I'm going to need something stronger than Calgon to take me away.
I don't even know how to express what this year has been about. It seems like the first six months just faded away and the year really started in July, but in retrospect the first half of the year was great. Last year on New Years Eve I made the joking resolution that I wasn't going to go back to the hospital in 2006 and would stay admission-free. I guess I should have really been more specific. This year's resolution is that I WON'T win the lottery!
Peyton is starting to feel the effects of her steroids, she's not sleeping well and her appetite is amping up a bit. She's still pretty happy but little signs are popping up. Today I caught her with a bottle of fingernail polish and when I took it away she cried like her heart was just broken and apologized and crawled up in my lap and told me she loved me. That's sweet, but she'd normally get all sassy and throw a fit about not getting her nails painted. So I can tell that she's already getting way overemotional. Rachael rang the new year in at her Grandma Sharon's….in an attempt to keep her strep free and as always she had a great time.
Peter and I had planned to hit the town with Angela and Doug Powell, Adelaine's parents, with the knowledge that one of our girls could end up at the hospital and all plans were off. I hadn't figured on poor Nathaniel spiking a high fever and he being the one to keep us home, but Peter and I still enjoyed a quiet night together as the kids were sleeping early. Ahhhh, feeling old this year.
It's pretty bad when shows you don't even watch can break your heart. I read about a PBS documentary called "A Lion in the House" and it just made my heart ache. The husband/wife documentary team followed 5 families with a child with some form of cancer. Part of me wants to see it, part of me doesn't, I live it, you know? I do think it's great that this couple went out there and made this film that touched many people and made a real impact, but it's hard to know that the reality of the story is that 3 of the 5 children died after filming, and 2 of the 3 that died had leukemia.
When we tell people that Peyton has a 85% chance of being cured, that sounds so positive and we'll take those odds against what they were just 10 years ago. The whole truth of that statement is that the cure rate is a statistic based on kids that live 5 years past diagnosis. 5 years is cured, if they die after that, if they develop a secondary cancer from the chemo, if they relapse, if they develop tumors from the radiation, if they have heart, liver or kidney damage, they're still in the 85% cure rate. I have a hard time not getting angry and saying, I don't want their 85% cure rate, I want 100% cure rate guaranteed to see her well into her 80's. I can't imagine a day without her, so I try not to, I just enjoy each day as they come and make memories. Just in case.
We're heading into 2007 with no big plans, just prayer in our heart and thankfulness for each day that we have together.
Peyton will be heading back to the clinic this week on Wednesday and Friday for more chemo. Wednesday involves a double leg shot of Peg-Asperiginaise, and Friday is Vincristine and Doxorubicin. The older two kids head back to school on Thursday and I think we're all a little excited about that. It's been a great vacation, but they're seriously getting on each other's nerves and, in turn, on mine. We have had some fun times this break, friends, family and all the holiday hub-bub.
We hope you all had a great New Years Day, and that God brings you much happiness and love in the days to come.
f.r.o.G…fully rely on God
—Anissa
We got to see a special friend of mine, Amanda Benjamin and her sweet little boy Haven. They came for a visit and brought lots of smiles and laughter with them. Again I am so amazed by the support and love I receive from my friends and am monumentally thankful to have them in my life. What a gift each has been.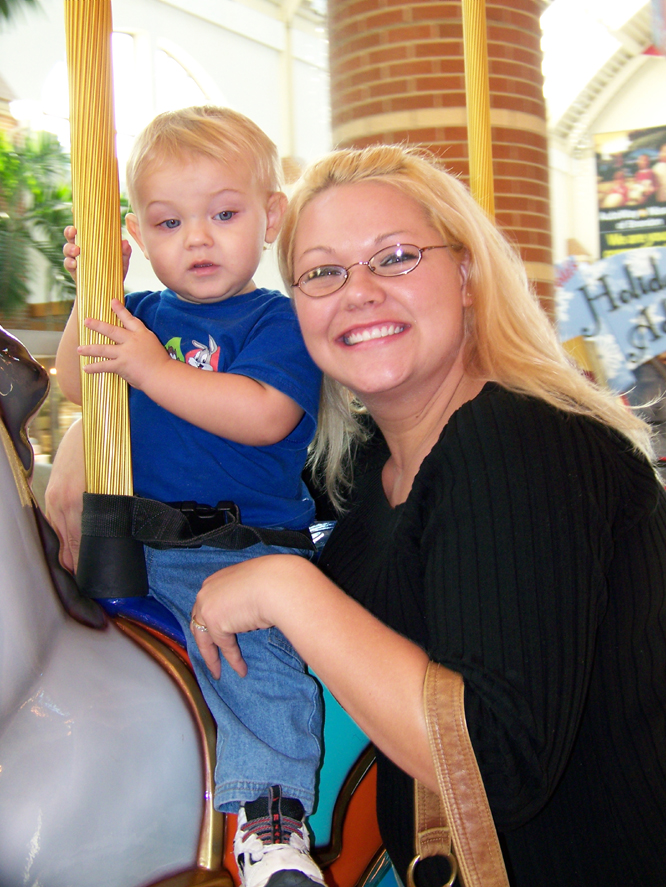 On a side note, we went to the mall and rode in the little $.50 rides….and Peyton got into the NASA rocket that spins around and this is what I found out: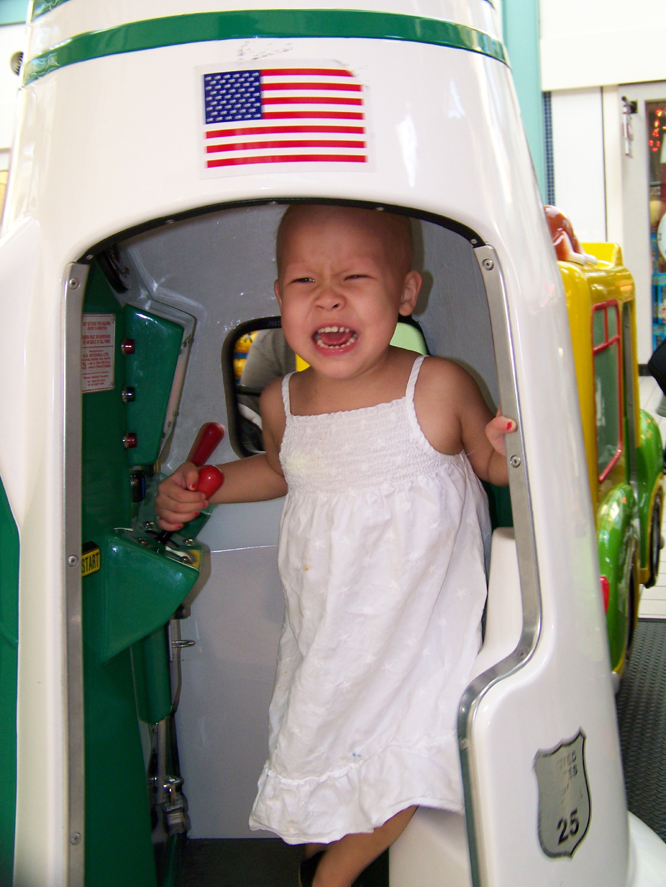 Not all kids want to be an astronaut when they grow up.