What a day we had! In the months since Peyton was diagnosed we've definitely had a roller coaster of good and bad moments, and today was one of those special very good days.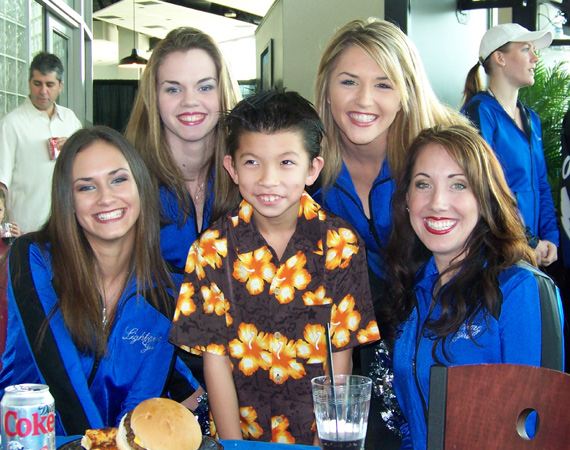 Nathaniel's comment about taking this picture was "this stinks!" I told him in about 8 more years he'll be saying "I was stupid!"
The Children's Cancer Center, which you've often read about in our posts, have continued to bless our lives. These people who've answered a calling to enrich the lives of cancer children have hearts of unimaginable size. They talked today about the ongoing generosity of the Tampa Bay Lightning to reach out to cancer families in our area, how they found a home for a family this year whose child lost the battle with cancer and were about to be homeless. These are the kinds of people we spent the day with, the people who are blessed to have the resources to help make a difference, and have the compassion to see the needs out there and reach out.
We were invited to be a part of the Lightning Adopt-A-Family Christmas party, where a Children's Cancer Center family is paired with a team player and his family. The player and family make the holidays a little brighter for the cancer families by bringing gifts for the children and by hosting them at a party at the St. Pete Times Forum. We really had no idea what to expect, but we were looking forward to a fun day and the opportunity to meet the hockey players.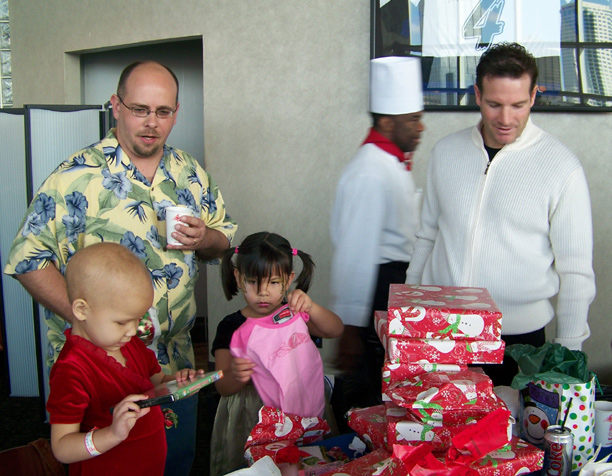 Pete and Tim, keeping a watchful eye on the present free for all
We were hosted by Lightning captain Tim Taylor (his name tickled Pete because one of his favorite tv shows is Home Improvement, and thrilled me because I could pronounce it…check out the roster, that's no small feat), his dynamic wife Jodi, and their two fantastic kids Brittany and Wyatt.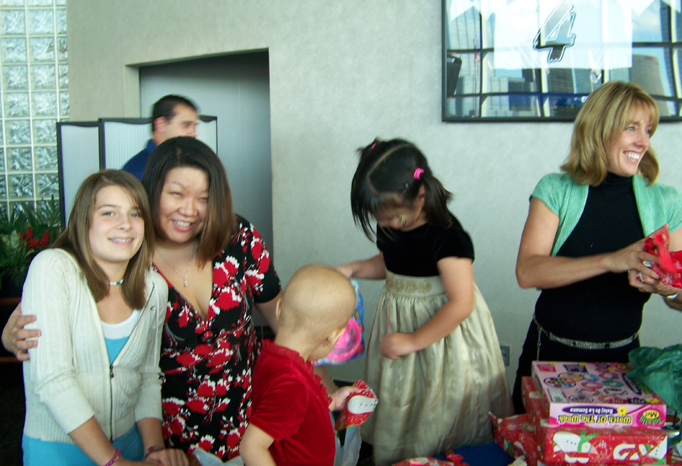 This is sweet Brittany
Brittany is in the 6th grade and was like a magnet for Rachael who just yearns for Big Girl Influence, and Wyatt is only 4 months older than Nathaniel so they were prone to just disappear together and have fun of their own making.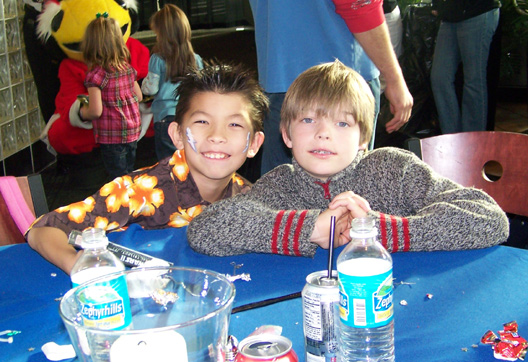 Nathaniel's new friend Wyatt
My sweet hesitant Peyton, who shies from strangers was strolling around the room in the arms of Tim and Jodi in a matter of minutes, all smiles and giggles. It was as if she just knew that these were good people and accepted them wholeheartedly. We enjoyed the Taylor family so much, they are genuinely nice people who were easy to talk to and fun to be with.

Jodi and Peyton giggling it up
The kids got their faces painted, Nathaniel and Rachael with lightning bolts and Peyton with butterflies.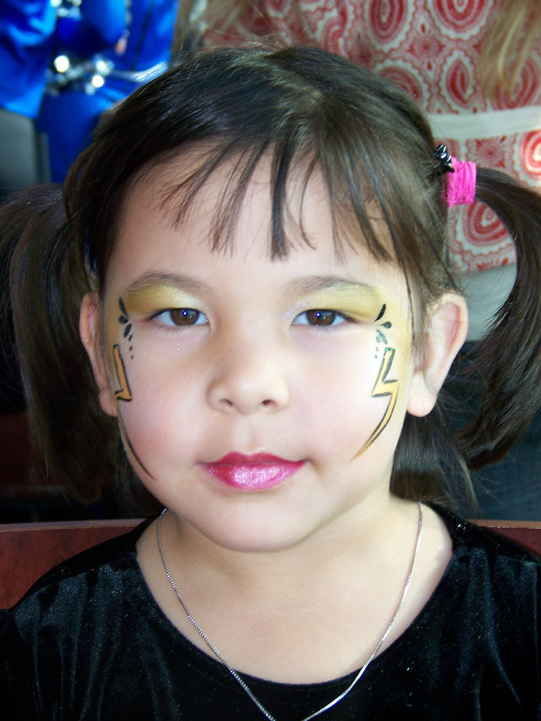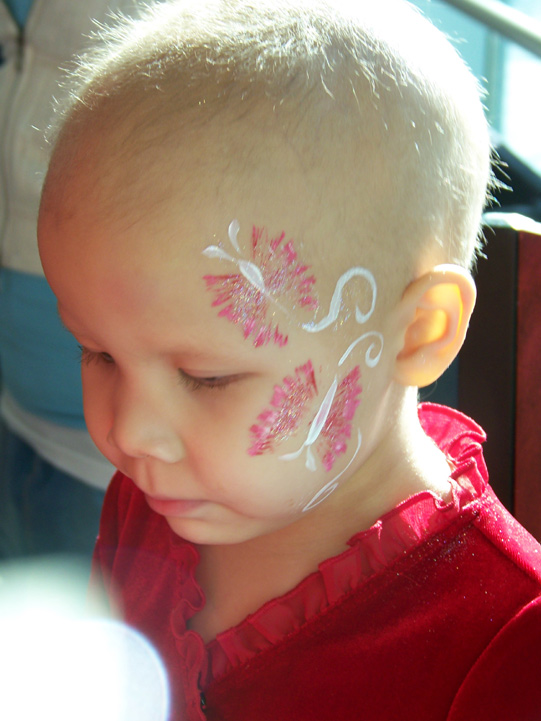 We all opened gifts, a tidal wave of generosity, from the Taylors, the kids were ecstatic and it was so much fun.
Cancer takes so many things from a family, the sense of security, the ability to plan for the future, and for many, the means to give gifts of love when you'd most like to. We've always tried to instill in our kids that Christmas isn't about the presents, that it isn't about opening boxes and getting new stuff, but they're kids….that's the BIG thing about Christmas! So it's been hard to make them understand that with the added bills, with Mom not able to work, with so many changes, the holidays were going to really be about being thankful for the important things that we do have. But it's been hard for me this year to accept that even though my kids have been exceptional in the face of a hard year, we wouldn't be able to reward them in a tangible way, with presents and lots of fun boxes to unwrap. The Lord definitely took care of that for us.
The gifts overflowed the table, the children were wide-eyed and thrilled at the multitude of wrapped boxes in front of them. There were toys, makeup, games, craft sets, play-doh, movies, clothing, a karaoke machine (hehehe, Dad and Mom are pretty pumped up about that one) and so much more, just an unimaginable blessing for our family. We knew that there would be a present exchange, but my expectations were more like one or two boxes per child. We literally had to empty the trunk and wrangle the four bags of goodies into the car.
Overwhelmed, that is one word for how I felt most of the afternoon. Tears were in my eyes more than once, just thankful that my kids were made so happy, that even though we couldn't give them all the little things they wanted for Christmas, God had provided them through the Taylor family. It is an amazing thing to see prayers answered so blatantly, right in front of you, to see God say "There ya go, I hooked you up, how do you like that one?"

The aftermath
We are so blessed each and every day, we can never say thank you enough. Our family, our friends, those who touch our lives with prayers and love, those who've given generously to make our path a little easier to walk, we thank you, and we thank God for bringing you into our lives. We continue to be thankful to the Lord for Peyton's good health, tomorrow she goes in for some blood and then we're chemo free until just about Christmas.
f.r.o.G….fully relying on God
—Anissa